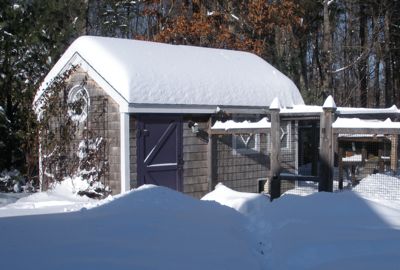 Santa will certainly have easy sleighing in my neighborhood.  Nineteen inches of new snow is on the ground, and on rooftops, and in the chicken's yards…..  Candy is delighted. The chickens are not. We've shoveled an area for them in the run, but they refuse to go outside. Smart birds. It's 15 degrees F. out today, and very windy. Several of the hens are at the end of their molt and are a tad naked, poor things. But, it's cozy and draft-free in the coop. The waterer is on a heating pad (specially made for chicken barns), so it never freezes. The hens are winter-hardy breeds, so they don't need a heat lamp. Scooter, my little chihuahua mix, does. Actually, he'd like us to keep the fire going in the hearth all day for him. He also needed a potty area shoveled out. Lily Dog loves bounding through the snow, but she doesn't have much of a coat and so she, too, would rather be in front of the fire. Me, too.
The snow is work and inconvenient. But isn't it pretty?
I'll be taking a blogging break between Christmas and New Years. Enjoy your holidays!