I've been a tad busy and unable to blog. First was the pie party. What delicious fun! Tonight my family consumed the last of the leftovers (and there's still pie in the freezer!) A favorite was the Pear and Cranberry Tart (seasoned with a splash of good brandy) in an Almond Shortbread Crust. Guests with a serious sweet tooth loved the Peanut Butter Chiffon. Those with a savory bent ate up the Russian Onion Pie. As always, each person ate about a half pie per person. They all denied that they'd eaten so much – but the empty pie tins told the truth.
Then, on Monday, I took the Acela Amtrak train to NYC. In 4 1/2 hours I left my little town that doesn't even have a traffic light, and arrived here: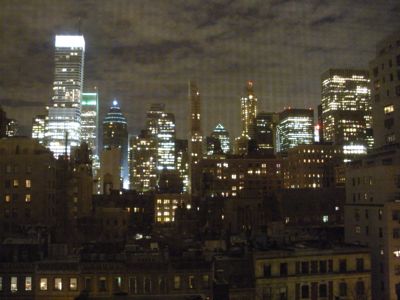 This was the view from my hotel room. Magical.
The one thing that struck me in NYC was that it looked as if the good fairy of trendy eyeglasses had swooped in and given everyone new eyeglasses in the Sarah Palin style (or Tina Fey, depending on your politics.) Lots of plastic frames with colors and patterns. I confess that I bought a pair.
I ate. I walked. I met with some wonderful people at Scholastic Press who are getting the word out about Tillie Lays an Egg. So far, my book has had a starred review in Publisher's Weekly and a rave review in Kirkus. "Thrilled" is not a strong enough word to express how I feel about that.
All in all, it was a wonderful week. But there is some sad news. My elegant hen, Ginger, passed away this week – it appears peacefully in her sleep. She looked healthy up to the end. I really don't know what did her in. Perhaps it was simply old age. Although Ginger was not shy, she never, ever bossed another bird around. I'll miss her.