My lawn is usually parched and bare because it is in full sun and I don't water. But what's growing there this year? These: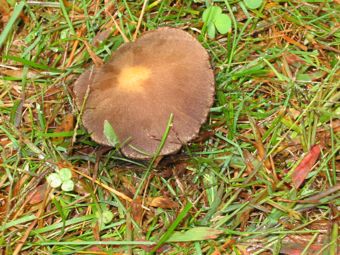 Yes, it's been so wet (and dreary and soggy… and, okay… I'll stop whining) that mushrooms are growing in my lawn.
We justifiably brag about Fall color in New England. Depending on the weather (and the species you're looking at) the leaves change to reds, oranges and yellow. One year, due to perfect conditions, the wetlands in my neighborhood were purple! This year I see this in the maple tree outside my office window: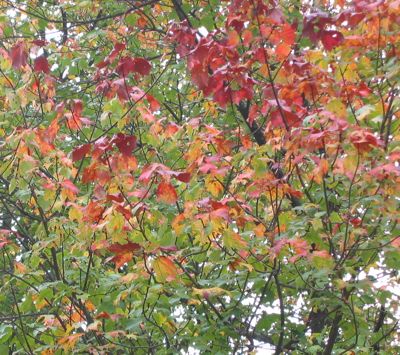 and this in the border between my yard and my neighbor's.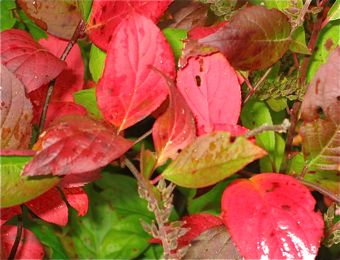 I think it's clethra. I can't tell you exactly the variety. I do label all of my plants. I've got a nifty label maker that makes waterproof, long-lasting signs. I have copper stakes. So, why don't I know what my plants are? One word – chickens. The girls pick up the stakes and toss them. I no longer know which rubedekia is which. My named peonies go unnamed. It's not entirely their fault. I'm not a plantsman – I'm not one of those gardeners who know latin names, or have an unfailing memory for a plant. I just like getting my hands dirty. I thought that labeling my plants would help. The chickens say that the signs get in the way of their business. The chickens, as usual, won out by their sheer persistence and industry.