Most backyard chicken keepers get only a handful of chicks, which are doted over and minutely observed. One of the great worries of these new hen mamas and papas is pasty butt. This is the general term for a vent that has manure hardened over the vent, which can block more poo from coming out. It certainly looks uncomfortable.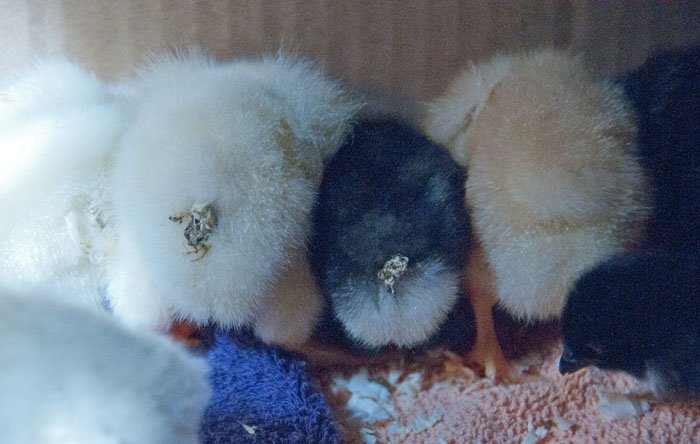 Before I write these posts I do research. I like to know what people did in the past, before factory farming. I have numerous books written at the turn of the last century which are filled with advice for the small-scale poultry keeper. I looked through 24 books. Not a one mentioned pasty butt. Nor blocked vent. Is this a new disease? Or are we overly concerned about a bit of manure?
Gail Damerow, in her new book Hatching & Brooding Your Own Chicks, calls it pasting, and writes half a page about it. My advice is even more succinct. It's easy to take care of. Simply pick up the chick and gently break up and remove the lump of manure. If it's stuck on hard, soften with warm water. It will come right off. The above photo was taken the first week that my chicks arrived. I removed about six little poo balls. That was it. If pasty butt is rampant in your group of chicks, look at what you are feeding. Do they have grit available to help them digest their food? Are they drinking their fresh water? Are they bored and consuming bedding?
If what you see on your little chicks' bottoms is bloody diarrhea, then it's not pasty butt, it is coccidiosis, caused by a protozoa, and it's lethal if not treated with medication. If what you see is thin, brown, runny and stinky, then it is vent gleet, caused by a yeast infection.
But, most likely, all that's there is a bit of dried poo, something so normal and basic that not one of my vintage books mention it at all.