One of the reasons that people chose to have chickens is that we like to look at them. Feathers shimmer in a range of gorgeous hues. Their fluffy-feathered bottoms are both charming and comical. Some breeds are sleek, and some, like my cochin, Pearl, look like a fussy Victorian lady.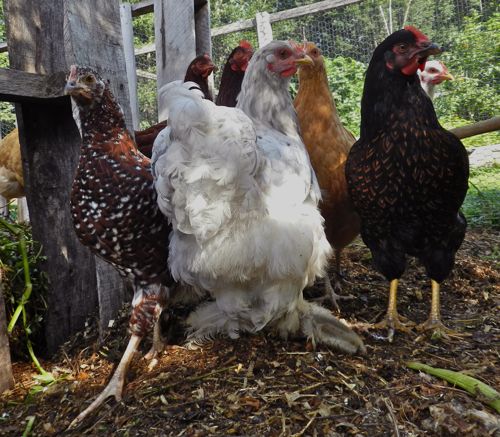 What we don't picture, when we get chickens for the first time, is all of the runny manure and other unpleasant things that stream out their backsides. Any hint of disease often first shows up as diarrhea. Then, there's lice and mites which cause red, bare bottoms. Sometimes, hens lose the feathers around their vents and what you see is a bare bottom. Not as bad looking as a baboon's, but not an attractive picture, either.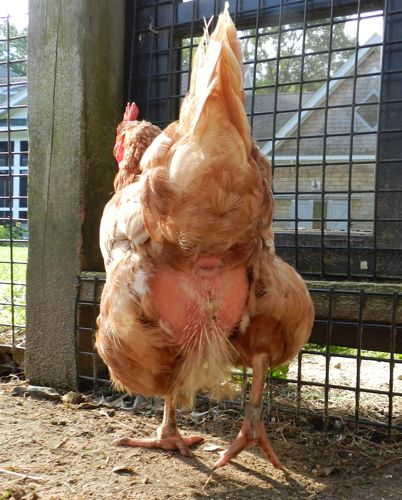 How to know what is a problem and what to do?
In the case of Philomena, the hen with the bare butt, above, nothing needs to be done. Note that there's no dried manure stuck to her vent and that there's no irritation of the skin. A close inspection shows no signs of external parasites. I've seen many bottoms that look like this, and they're always on my best layers, and those are usually hybrids or breeds designed for high production that never had a lot of feathers near the vent in the first place.
The hens I do worry about have smelly, thin, runny poo stuck to their vent feathers. This is often a sign of vent gleet (a yeast infection I've written about here.) Clean them up with a bath and dose with epsom salts and it often clears up. Some hens, though, like Buffy, have persistent cases. I've had Buffy for six years and her fluffy Orpington vent feathers have always been yucky.
Some hens get a mysterious skin ailment. A couple of years ago, Eleanor, another elderly hen here, developed a hot, thick, red skin rash around her vent. Epsom salt baths seemed to make her comfortable but the symptoms didn't go away.
My flock of older hens, although healthy enough, weren't a pretty sight this summer. I've been concerned that the exposed skin was susceptible to injury or infection. And, honestly, I was tired of Buffy's smelly bottom. I'd recently read that providone alleviated vent gleet. Providone is similar to iodine, but is a stronger, broader spectrum bactericide. (It's more expensive than bactrine, but worth it.)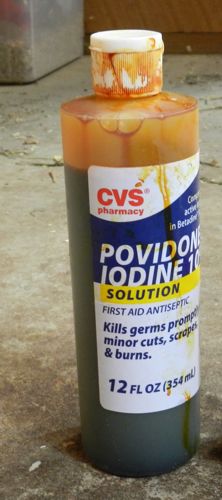 As long as I was going to treat Buffy, I decided to do all of my older girls. First they got baths. I used an herbal dog shampoo with tea tree oil in it, which is supposed to be an effective antiseptic. I happened to have the shampoo – I've used ivory dish soap on hens, too, but this fancy dog shampoo certainly made them smell nicer!) I only did their bottom halves. Since I was cleaning the feathers of caked on manure, I wore disposable gloves. I really hate getting poo under my fingernails. After bathing, the hens got a thorough rinsing off with clean water. It was a hot day, so I held them under a hose. No one seemed to mind much, but I'd dunk them in a tub of lukewarm water if the weather was cooler.
Here is Maizie getting bathed.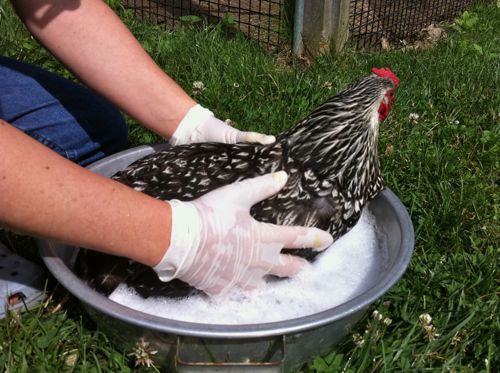 Once each hen was cleaned up, I squirted the providone on the bare skin near the vent and rubbed it in. Use gloves and don't wear clothes you care about. This stuff stains!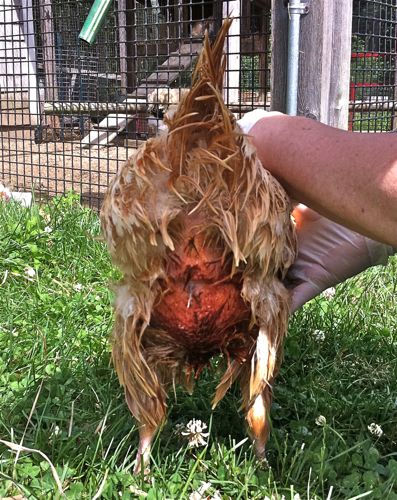 I treated the hens in June, and look at how lovely Buffy's bottom is today. No runny, stinky secretions.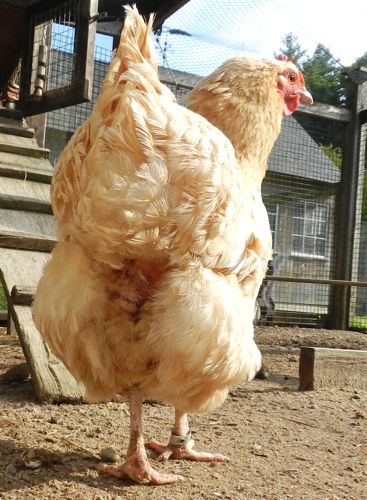 And here is Eleanor. Her bottom is fluffy again! She's looking quite stylish for an old hen.