Warning: This post contains graphic images.
One day your chicken is happily scratching in the pen and laying eggs. The next day you find her on the floor, head tucked into a corner, dead. Industrial-scaled farmers expect mortality. They don't like it – it affects profitability – but they know it will happen. Backyard chicken keepers, especially those who recently got into it, not only mourn the loss of each hen, but each death comes as a surprise. What isn't said by all of the keeping backyard hens is so easy! boosters is that there will be losses, and they'll be sooner than you think.
After twenty years of having a flock in my backyard, I'm no longer shocked to find a dead chicken in the yard. This happened yesterday. Nancy Drew had tucked herself into a corner of the coop, where I found her dead, though still warm, at 7:30 am when I arrived to take care of the animals.
She had shown no sign of illness.
Her comb was full and red. Unlike some of the other hens, she hadn't yet gone into the molt. She was still laying a sturdy brown egg about every other day. Her appetite and activity level had been normal. A sudden death, although not uncommon, is cause for concern. It's rarely contagious, but with avian flu now in the US, could it be that? Could it be something else that could have been prevented if only I'd known?
To find out, I did a necropsy. Her reproductive tract was in beautiful condition. In fact, there was a perfectly-formed egg on the way down out of shell gland. Her digestive tract looked great, too, with normal manure in it, and no parasites at all (I'm always pleased to see this – it's a sign both of the health of the flock and of good manure management.) The gizzard had food, grit and oyster shell in it, all indicators of a hen with a healthy appetite.
But, there was something glaringly wrong. Her abdomen was filled with yellow fat.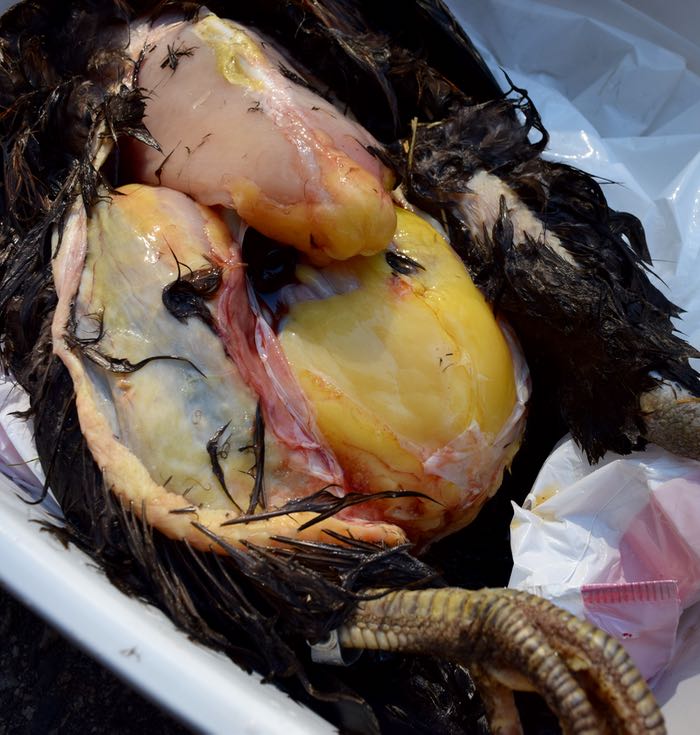 This is a sign of liver disease.
When handled, the fat crumbled apart. I have no idea how long it takes for a hen to produce this fat, but Nancy Drew must have been living with this condition for awhile. Further investigation showed a seriously diseased liver. The left lobe had hemorrhaged, and there were lesions on it. When I tried to remove it to examine it further, the whole thing fell apart. The term used in the medical books is friable. Before I could photograph it, the liver had disintegrated into a puddle.
There are a number of diseases that cause such symptoms, the main one being fatty liver disease. There are also viruses and bacteria that cause lesions. But, my knowledge is limited. I haven't found any research done on older hens. Although diet can be a cause of liver disease, I think that something else is going on with the aged birds. I'm sure that genetics plays a role. The large hatcheries are breeding for feather and egg color, and hatch success. Perhaps some traits, like vigor and health are going by the wayside?
But for now, in this case, there are lessons to be learned about how to care for the hens that we currently have. If your hen dies suddenly, there was likely something very, very wrong inside of her. You couldn't have done anything to save her. If your hen stops eating and loses all vigor try the Spa Treatment. That might work. I heard from someone today who had a lackluster hen that revived from that protocol. But if your hen doesn't perk up, there's likely something very, very wrong inside of her.
I know that I've written about this before, and I'm sorry if this blogpost isn't cheery, but we need to do right by the animals in our care. Sometimes it means that we have to accept that we can't fix everything. Sometimes we have to let them go.