This morning, when I went to let the Gems out, I noticed that Opal was still on the roost. That's unusual for her. She looked okay, but the fact that she wasn't on the floor of the barn, active and about, had me concerned. I picked her up and listened for respiratory distress. Nothing that I heard (though my hearing isn't the best.) I checked her crop. Full. I looked at her bottom and her vent and didn't find or feel anything unusual. I set her down. She walked off. I finished my chores.
An hour later I checked on the flock. The other hens were busy doing their morning scratching around. Opal was under the ramp. I watched. She closed her eyes and looked sleepy.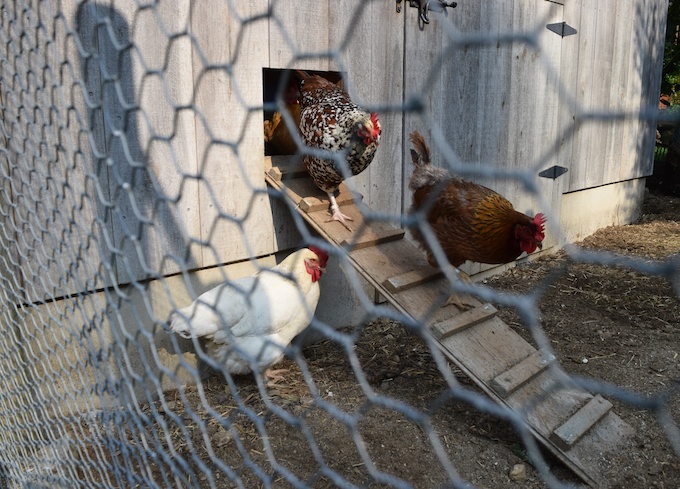 When I went into the pen, she took on a normal stance. Sick hens will do this, which is why I like to observe them from a distance before rushing in to handle them.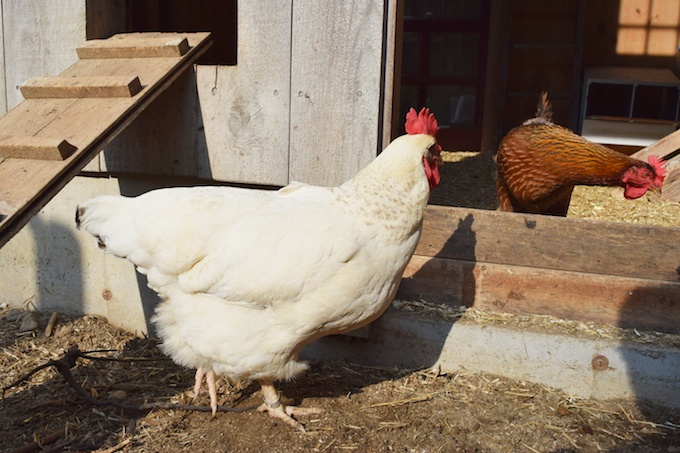 She was easy to catch, which was another sign that something is amiss.
At this point all I know is that Opal is feeling off. This is exactly the type of situation for which I isolate a hen. If Opal is carrying a contagious disease, isolation might help to protect the rest of the flock – although certainly they've already been exposed to the pathogen. Mostly, I isolate so that I can gather more clues. I'll be looking for:
breathing issues
swollen eyes
appetite (is she eating at all?)
is she able to drink?
is she producing manure?
if there is manure, what quantity, color and consistency?
does she become more lethargic?
what is her stance?
does her comb change color?
is she laying?
does she show signs of wanting to lay an egg but is unable to?
The Gems are now three years old and heading into the molt. They've been having issues with thin-shelled eggs. Opal is a breed that was originally created in the 1940s as a meat bird. She's heavy and she's been a consistent producer of big brown eggs. Much can go wrong inside of an older hen like her. Or, she could be developing a respiratory disease. The only way I'll know what's going on is to isolate Opal and observe her carefully.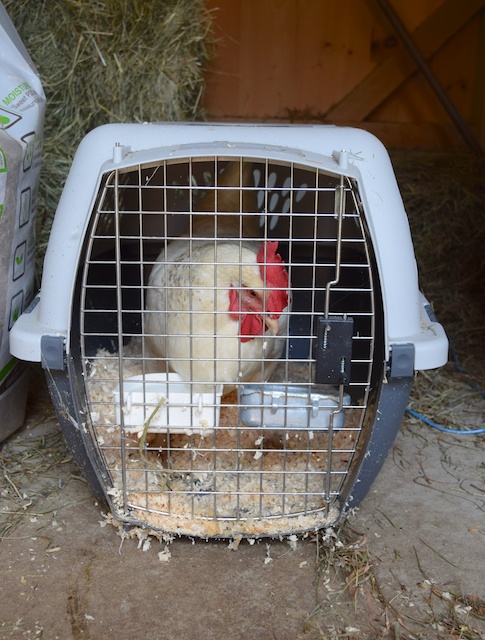 If you have to isolate a chicken, try to do what I've done here. Do not bring her into your house. She could be shedding pathogens. She will surely stink. She won't get any comfort by being in your kitchen. Keep her in the shade or in the barn, somewhere quiet, but with fresh air. Some hens get anxious if they can't see their flock, others stay calmer out of view of the others. Use your judgement. Put fresh water and laying hen pellets in front of her. Don't immediately try to feed with high-value treats. Many ill hens have intestinal issues, and making them eat only causes suffering. Let her be and check in to observe any changes. Then you'll be able to determine what to do next.
I'll let you know what I'm going to do for Opal. Hopefully the prognosis will be obvious by this evening, but, I've seen enough ill hens, and done enough necropsies to know that a clear diagnosis is rare. We'll just have to wait and see.