Rather early on after meeting Steve, it was clear that we were going to stay together. He already owned a home, and I was renting a tiny cottage a few towns over out in the country. We talked about me moving in with him. "Only one condition," I said. "If I move in with you, I get a dog." Looking back, I realize that I didn't say "we get a dog." It was I.
I found what was likely a husky/Australian shepherd mix at an animal shelter. Nimbus was under a year old, and she'd already been adopted twice and returned in haste by both households. She wasn't the right dog for most people, but she was the perfect dog for me. She liked Steve well enough, and even, once we had them, the children (who dropped crackers from high chairs and so were okay.) But, she was my dog – that was clear to everyone who saw us together. Who can say what makes a heart dog? Nimbus was smart and funny and willful. She needed to have an interesting life, and so my life became more interesting. Nimbus was a catalyst for change, and it was all for the better. In search of a way to channel her energy, I discovered agility, and we made it up to the masters level. Because of agility, I found clicker training and Karen Pryor. Because of that, how I interact with all beings, humans and animals alike, took a more thoughtful, more positive turn.
A person is lucky to have one heart dog in a lifetime. When that one dies, there is heartbreak and you think that that dog can never be replaced. It's true. Don't even try. But, that doesn't mean that you give up on animals in your life. I couldn't. Without a dog, I didn't go for walks. The space around me felt hugely empty without another being linked to me with eyes, ears, and that finely-tuned dog attention.
I went looking for a border collie mix. I found Lily. The "rescue organization" (I put that in quotation marks, as it turns out it was one person who did not know what she was talking about) claimed all sorts of things about Lily's temperament, socializing and breeding. She was wrong on every count. But, Lily needed a person and I needed a dog. I put her into the crate in my minivan, and she was carsick all the way home. She never did get over hating car rides. Nimbus loved riding shotgun, Lily whines and cowers. From the start, Lily was reactive to movement. I had young boys in the house, and so we did much training to reduce the risk of dog bites. Lily resource guarded with snarls and teeth. Lily chased everything, including chickens. She was sure that threats were everywhere, that men who smelled of cigarette smoke should never step a foot near the house, and that all trucks should be barked at with the highest pitched, most painful to hear bark on the planet. She didn't read other dog's body language well, so often felt threatened, and so walks with her were not relaxing.
And yet, on this blog, I call her Good Dog Lily. Because she is. Because, she is very, very good at what she does. Lily has the best hearing of any dog I've ever known. (Truly! She can hear someone walking down the street from inside of the house, with the windows closed.) She tells me what vehicles are driving down the street (UPS calls for extreme vociferation.) There is even a bark if a car deigns to slow down by the driveway. She tells me who is at the door, and when the power goes out (she hates the beeping of the alarm.) Even now, when I wake up in the middle of the night, not knowing (because I can't hear) what woke me, I look to Lily. If she is calm, I know that there is nothing to worry about. There's something to be said for having an alert, worrier of a dog! She might not be my heart dog, but she is my dog, and she is always, always with me. I trust that when she has something to say, that I should pay attention. In my office, when her head picks up off of her bed, and she looks outside, so do I.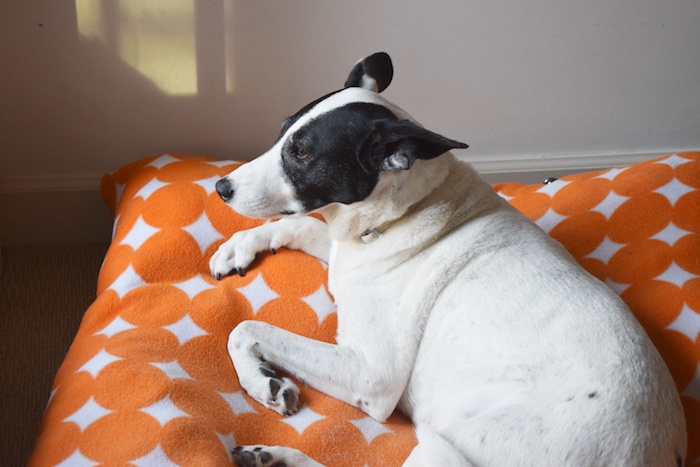 Lily turns eleven today. I have lived more than ten years with this complicated dog. Eleven is old. Her hind legs hitch a bit as she follows me up the stairs. Her muzzle is grey. But, from her purple chair inside the house, she still knows when hawks circle the sky, and when the UPS truck is in the driveway.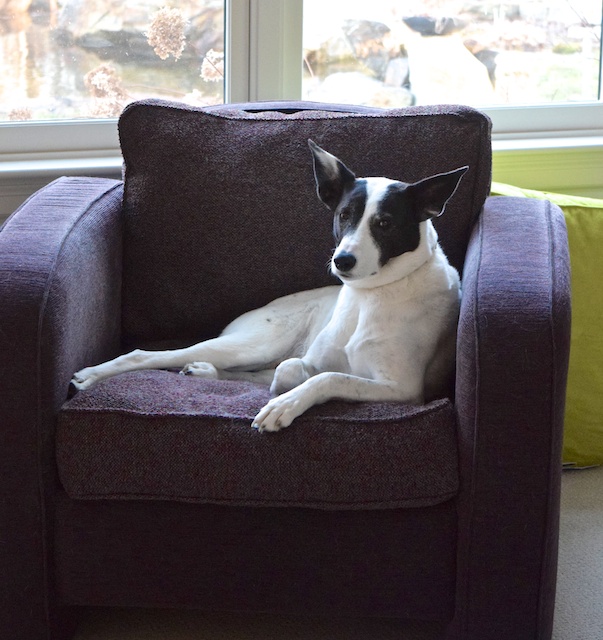 We humans are often focused inward, or on the computer screen, or at a task. Combine that with our dull senses, and we go through our days barely aware of the world beyond the extent of our physical reach. A dog like Lily, who is vigilant and hyper-aware, can change the very space that we live in. Some people find dogs like this demanding and impossible to live with. Not me. I am grateful that she clues me into this greater world.
It's hard work, being Lily. She never takes a break.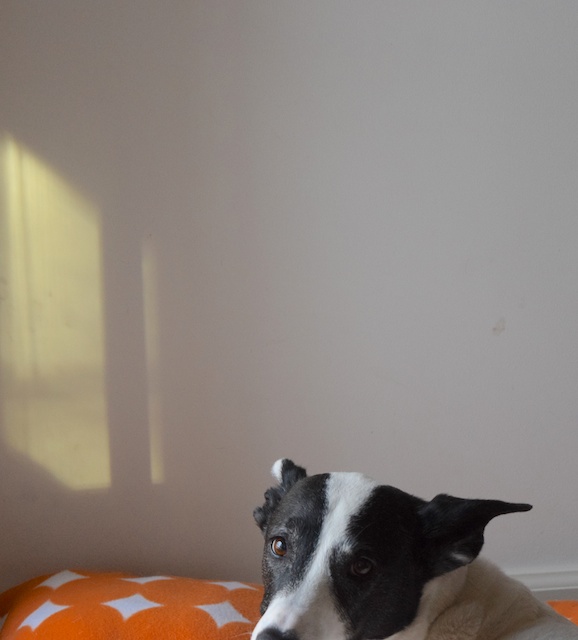 But, today is your birthday, Lily. The sun is out! Let's go for a walk!