At night, the temperature continues to dip into the teens. During the day it gets a tad warmer. There's been some melting. At long last, there's a strip of frozen ground in front of each barn. It's rock hard, but it's clear of snow and there's old grass exposed. I can finally open the door to the Gem's run.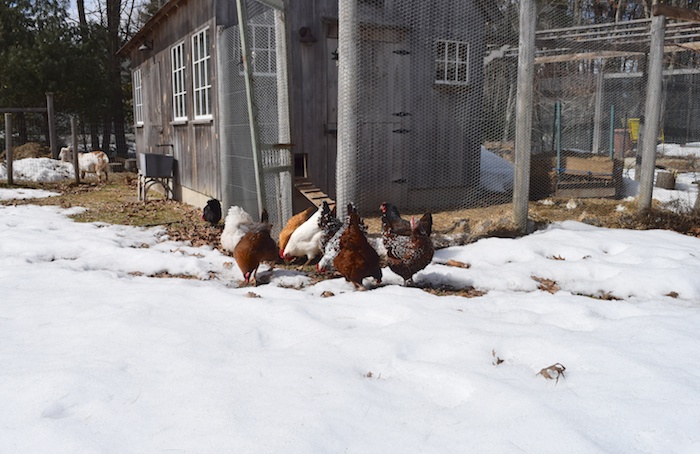 It took them awhile to find their way to the wider swath of turf, which is where they stayed. Even Misty didn't venture across the snow. (Although, you can see here that she's thinking about it.) Not that there is anything to beckon her past the barn. The lawn remains covered by a solid crust.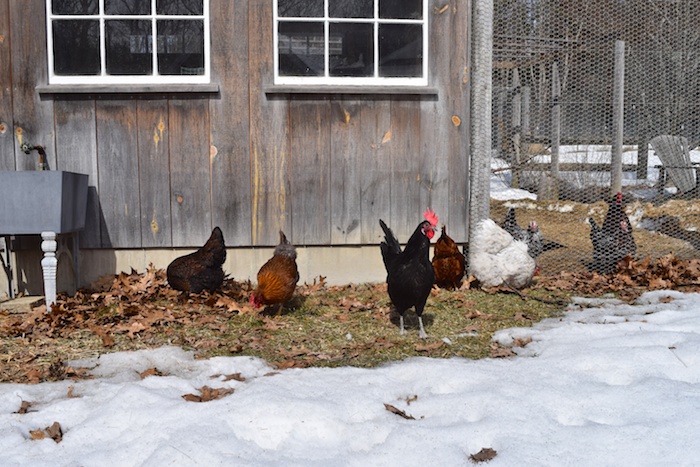 The Ladies also had an outing. They were delighted.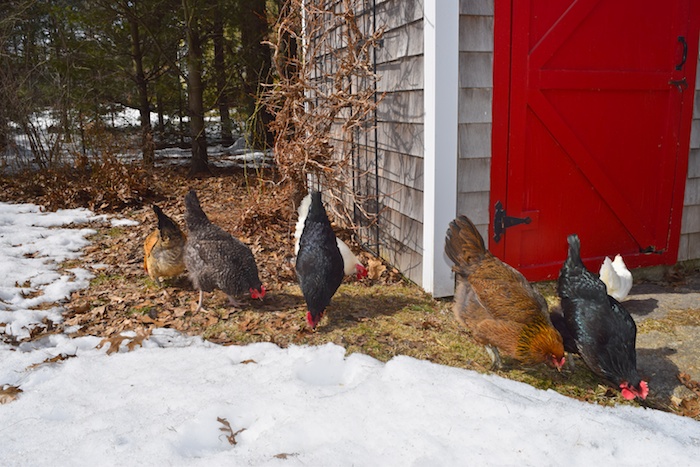 Despite the fact they the hens were staying close to the coops, they were not safe from predators. I bundled up in ski pants and a down coat and kept an eye on them. Hawks patrol the skies. Four footed predators usually stay away during the sunny midday, but there's no guarantee.
A few days ago, Lily let us know that something was in the vicinity. She insisted on staying outside, and sat in the middle of the yard on the snow, watching. A raccoon had come onto the porch the previous night. I figured that she was keeping it at bay. A raccoon is smart enough to stay away when an athletic dog is on guard. But, it didn't. Early that afternoon, the raccoon came onto the back porch. Lily cornered it under the wood pile. With Steve's help, I directed into a dog crate. I was very relieved that Lily hadn't tangled with it, but that was more luck than sense on her part.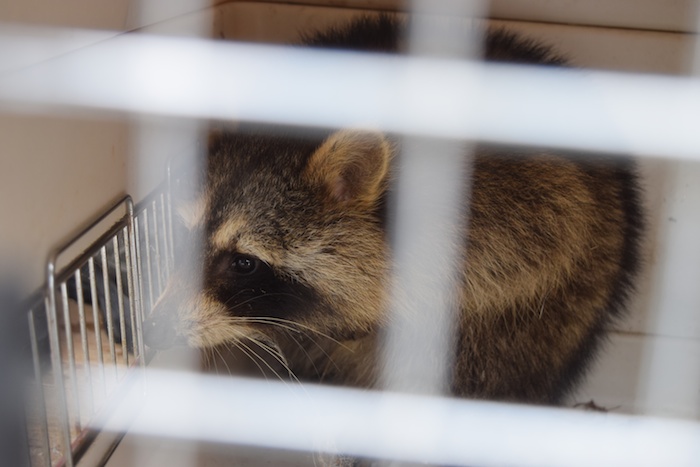 There could be only two reasons why this raccoon behaved as it did: 1) someone was feeding it and it had become used to people or 2) it was rabid. I called a registered wildlife rehab group who said they would take it. When we handed the crate over to the experienced volunteer, she took one look and determined that the raccoon was ill. It died the next day of rabies. She was worried about our goats. A rabid raccoon will act friendly one moment, and attack another. Had it bitten the goats? Luckily, no, and they are vaccinated. As are Lily and Scooter. Vaccines have gotten a lot of bad press lately, but not from  me. This story could have gone another way, and without a rabies vaccine, I could have lost my dogs and my goats.
Once again, I am grateful to my good dog Lily.