Now that the Garden Tour is over, I'd like to let the hens free-range. On Sunday I opened up the pens. Buffy slowly strolled out and looked about. She enjoyed pecking at the grass and drinking from puddles.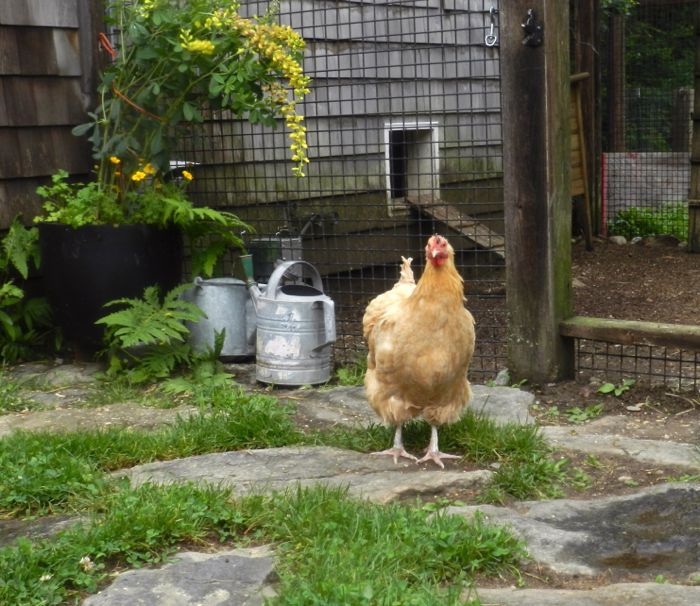 The more active Gems quickly went to work in the amongst the new grape vines. They've been eyeing that patch through their fence. Once there, mulch and dirt went flying in their search for bugs.
But, the outing was cut short. While Steve and I were standing in the middle of the yard, chatting and enjoying the antics of the hens, a hawk sped out of the woods, and swooped low over the hens. Hawks are that brazen. It was only fifteen feet above them when my arm waving and screeching, and pell-mell running at it, convinced the raptor to give up on it's planned chicken lunch.
The hens are back to being confined, but I have a few tricks to keep the girls busy and happy. I have a small birch log in the Big Barn run.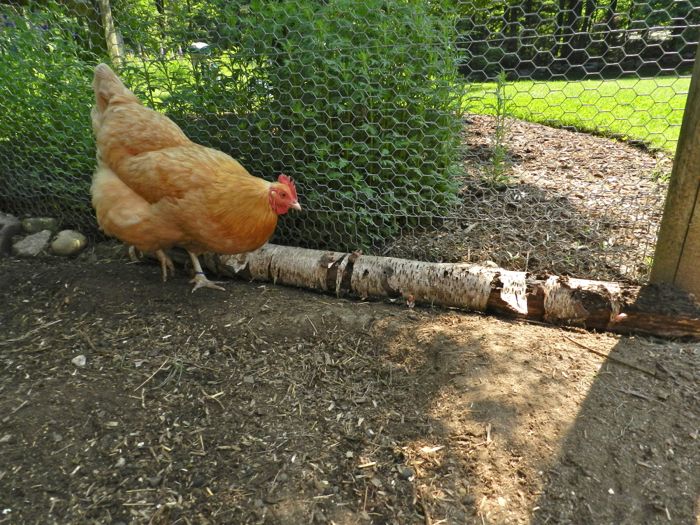 Every few days I move it to a new spot. The ground is damp and buggy where the log was, which keeps the girls busy for quite awhile.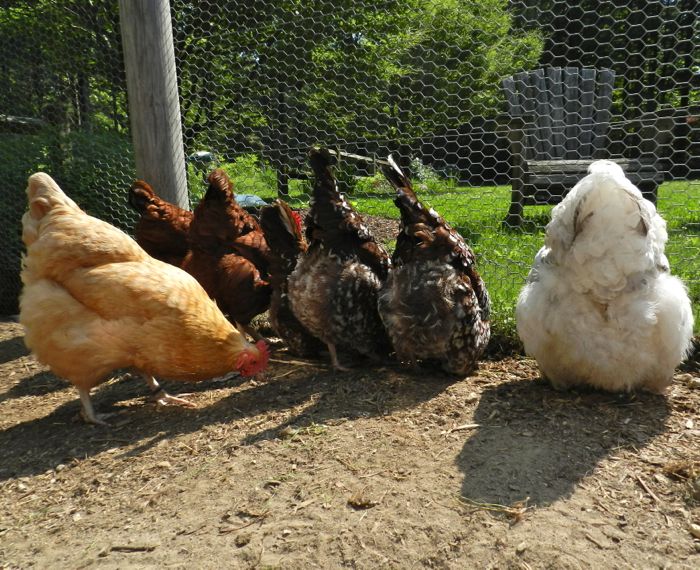 I also have a compost bin in the chicken run. It is a circle, with an opening like the letter C. It's where I put all of my kitchen scraps and garden weeds. The hens eat much of what is tossed there and what isn't edible they shred into bits. It's wormy and an endless source of good things to scratch for.
My wild arm-waving worked once, but that hawk is smart enough to catch on that I'm not exactly fast. So, the girls will be kept safely in their pens. I don't think they'll mind. The patch of greens in my vegetable garden bolted this week. The chickens will have a field day with it.