A small flock of chickens, let loose in your yard, can, in no time at all, leave a swath of destruction in their feathery wake. They'll eat every raspberry, tomato and squash blossom. They'll down the chive blossoms. While dust bathing they'll expand the flower beds so that dirt spills onto the paths. They'll pull up the basil seedlings. They'll peck holes in the cucumbers. They'll leave manure everywhere. Left to their own devices, the yard would soon become bare, packed dirt with a few hollows for dust bathing.
But, it doesn't have to be like that. Your garden could look like this: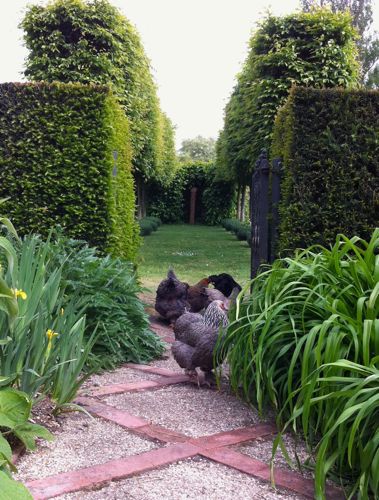 Well, it could if you lived on a British estate and employed master gardeners.
For the rest of us, there is a compromise between hens run amok, and keeping them penned at all times. You can pick where and when you want your girls to roam. Yesterday the Gems spent quality time in the pumpkin patch, scratching up overwintering pests and weeds. I appreciated Agatha's help.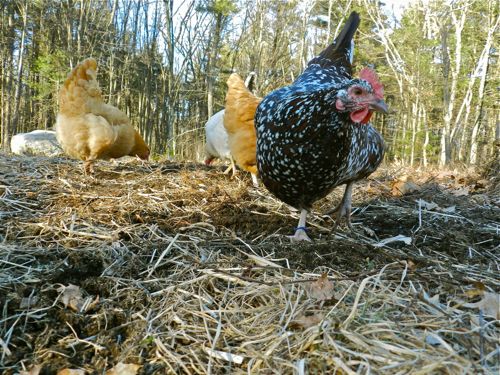 A new book, Free-Range Chicken Gardens, written by a gardener who is also a chicken keeper, dispenses good, commonsense advice. Jessi Bloom (is that a perfect name for a garden writer?) talks about how to use fences, mature plantings and appropriate building materials to make a garden that both you and your hens can enjoy. Included are plant lists and garden plans, which are especially helpful for those in the beginning stages of gardening and hen keeping.
I have a few quibbles with the book. She says not to use pine shavings as bedding. Maybe in the Northwest there's a different type of pine shavings, but here on the East Coast I've used them safely for many years. She also suggests that if your hen dies from unknown causes that you send it for a necropsy. Unless there's a danger that your chicken had a serious, communicable disease, don't ship your dead animals off to a lab, or your state vet will be inundated!
Smaller points aside, it's a well-written and attractive book that will be especially appealing to the urban chicken keeper. To promote it, the publisher is having a giveaway. The winner receives a copy of Free-Range Chicken Gardens, a $50 gift card to McMurray Hatchery, a chicken coop plan, and a pound of organic forage and seeds for chicken-friendly plants. Let me know if you win.