Other than the surprise Halloween snowstorm, the weather here has been unusually mild. But winter has settled in. This morning there was ice on the pond, it was brittle and thin like sugar on creme brulee.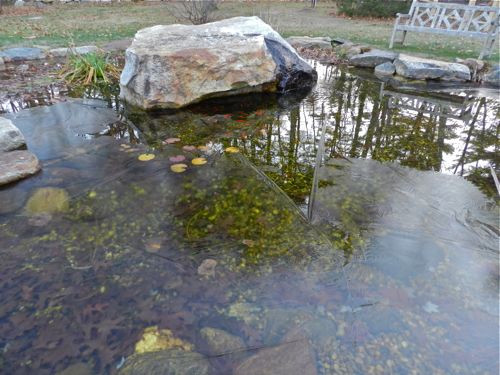 Outdoor fish go into a cold-weather stasis. They don't eat. They somehow stay suspended, barely breathing, barely moving, in the frigid water. As long as the pond doesn't freeze solid, they'll be fine. Under that big rock is a safe cave where the Beast has her lair. The smaller goldfish join her. The pump is on all winter. Water cascades down the rock, aerating the open water. Sometimes, in the middle of winter, the ice will be inches thick, and through it's rippled lens I will see the fish, their fins slowly flipping back and forth, keeping them upright and balanced.
This morning Candy's water was frozen solid. I was prepared with a spare to swap in it's place. I've also given her extra hay to nestle in.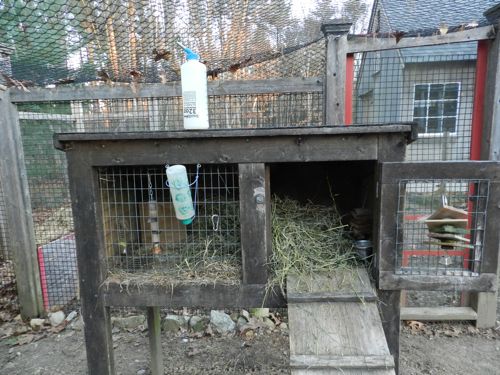 In the winter, outdoor bunnies need their waterers replaced several times a day. The narrow, metal spouts freeze quickly. But Candy has her own solution. She drinks from the heated chicken waterer in the coop.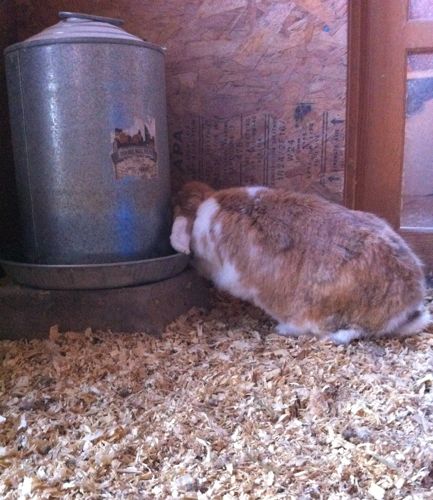 The goats, with their thick coats, coarse on top, fine underneath, are all set for cold weather. But, they've told me that they need hay in the morning. I've been giving them half a flake. The process of digestion in their four stomachs actually generates heat. That's why I like to feed them their main meal late in the afternoon. Their belly furnaces will keep them toasty all night.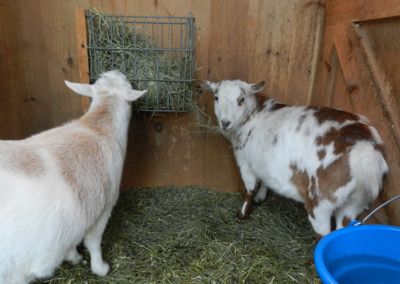 As for the chickens? Don't worry about them! They do not need heat in their coop, or sweaters, or hot oatmeal. They need what they have – draft-free dry barns, free-choice laying hen pellets, free-flowing water, sunny spots to stand in, and a place to roost, cuddled up with friends, at night.