Chickens require dust baths for health and happiness. But, right now it's 20º colder than usual for early March, there's 18 inches of snow under the bushes where they usually take late winter dust baths, and there's several feet of snow in their run. There's no dirt, let alone loose, warm earth to get under their feathers and next to their skin to kill parasites.
So, I went to K-Mart and purchased two kitty litter pans, and filled them with sand, fireplace ashes (all hardwoods) and food-grade diatomaceous earth. There's a spot of sun in the HenCam run, so I set one down there. You know who's on the top of the pecking order by who gets the first bath.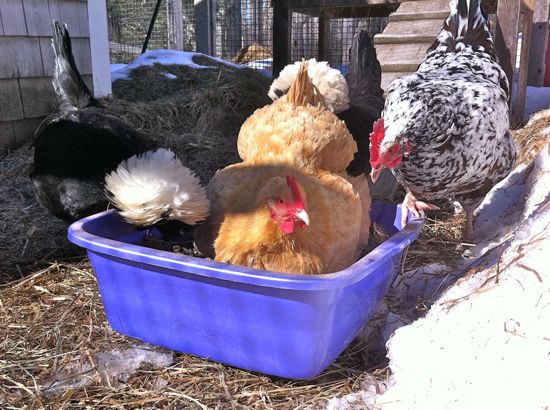 Buffy settled right in.
Next it was Lulu's turn. Notice the dirt that she's kicked up onto her feathers. She's about to fluff and ruffle and have it settle onto her skin. Chicken bliss.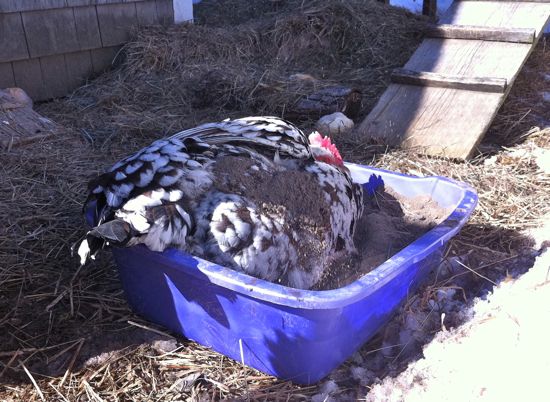 The Big Barn has plenty of room inside for the dust bath, and there's sun streaming in the window. Just the right place for their new spa. The girls are wary of the bin, but I've tossed in some corn. They'll soon be sun-bathing, too.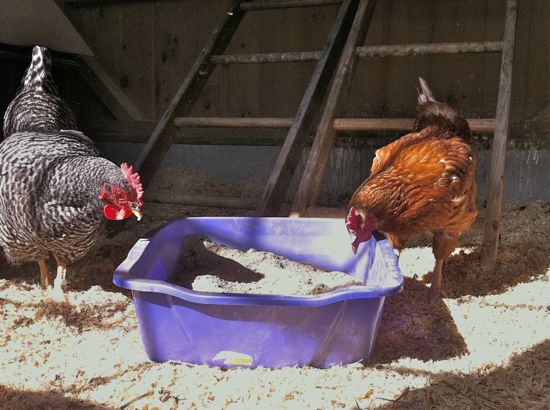 I wish that spa treatments for myself were so inexpensive and easy!