Providing greens year round to your backyard flock keeps them healthy and busy. Here at Little Pond Farm, it's as easy as letting the chickens out of their pen to forage in the yard, and tossing vegetable scraps from my kitchen into the compost pile – which is located inside the fenced area. (It's my lazy chicken keeper's compost method.) But, since we're in the midst of an extreme winter, with three feet more precipitation than average, and the compost pile looks like a four-foot high snow cone, (a frozen mountain that the chickens do not scale) I bought some cabbages to hang in the coops. That kept the girls happy and busy for awhile, but the snow is still on the ground, and, like our snow plowing budget, the cabbage games fund has been used up.
So, I went to Whole Foods Market, where they have greens of every hue and texture. They're winter greens, and even more expensive than basic green cabbage. But, the guys who work in the produce department curate the displays with artists' eyes. No wilted or crumpled leaves are allowed. If I do my shopping early in the morning while they're replenishing the greens, they're happy to give me the discards – and chat a bit about chickens and goats, which makes everyone smile. One tells me about a grandmother's chickens, another about a neighbor who milks two goats. Checking out, the cashier eyes the box of greens and I say, "it's for my chickens," and she says, "oh, I've always wanted chickens!" More smiles.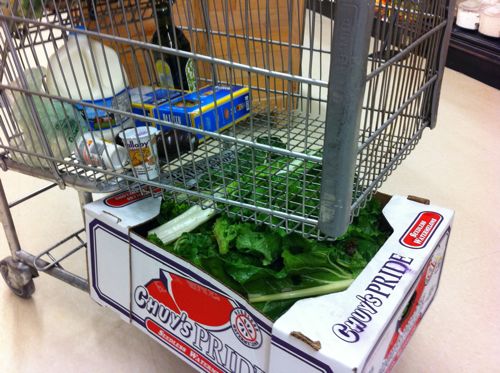 My goats also need greens, but unlike the hens, they refuse anything less than perfectly crisp. I rummage through the box and find chard up to their standards. They chomp and burp and head butt with happiness.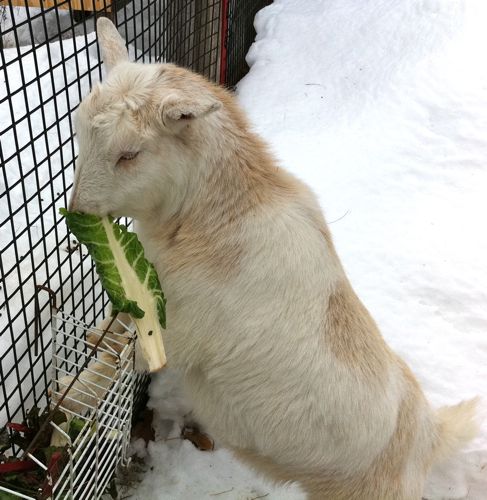 Candy comes over to see what the commotion is about. Usually she can't reach their outside feeder, but with the snow, she's able to share. Thanks Whole Foods!