It's apple picking season! Every year we go to a u-pick orchard and bring home about 40 pounds of apples. We went early this year, and the honeycrisps and macintoshes were ripe. I'll have to go back to get cortlands and my favorite, the macouns. However, the orchard did have four trees full of bosc pears. When you get them fresh off of the tree, the skin is thin and the fruit is juicy – nothing like the pears found mid-winter in the supermarket!
Bosc aren't the best baking pears, but you can gussy them up a little and they're delicious. I like to make a batch of baked pears, and then eat them for breakfast with yogurt. Baked pears (or, use this same template for apples) are as easy as can be. Get out a baking dish. Core the pears(did you know there's a simple tool for this task?) and set them upright in the baking dish. Then fill the cores with good stuff, like dried fruit, or granola and a bit of crystalized ginger. Put in a cinnamon stick and a small dab of butter. Drizzle honey or maple syrup over the pears. Pour in some apple cider so that the pears are sitting in about a half-inch of liquid.
Here they are about to go in the oven: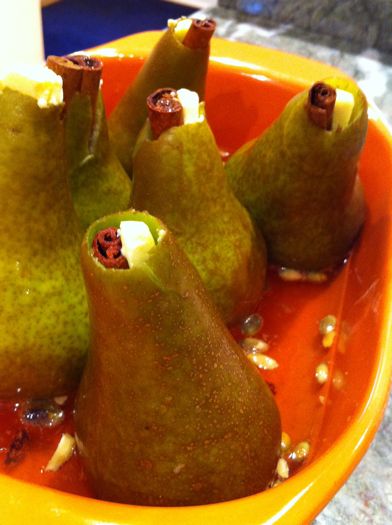 Bake at 350 for about 45 minutes, or until soft through.