Bill Norton!
I'll be sending Bill a signed copy of Tillie Lays an Egg.
Like the vast majority of you, Bill voted for Marge's ringtone. Here is a favorite photo of Marge and I gardening.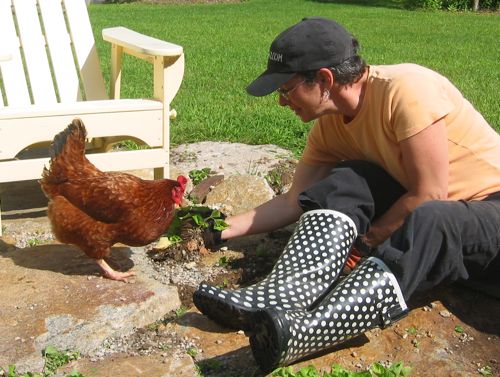 We're heading into a long holiday weekend. I'll be back out there, pulling weeds with the goats and the chickens. I'm sure Lily Dog will have the zoomies and cool off in the pond. Scooter will sprawl out on a hot brick and sunbathe until I have to carry him inside. We'll have friends over for dinner. They're bringing fish. I'm supplying the salad – my greens are up and delicious.
Candy's ears are looking so much better. I'm letting her hop around in the cool of the evening. Caper is still limping, but that hasn't stopped him from squeezing out of the stall door and jumping around on the feed bins (and getting into the sticky fly paper – don't ask!!!)
Looks like we're all in for a fine holiday. I hope you are, too.