It's snowy. The wind is biting cold. I've been bringing frozen waterers inside and carrying fresh water out. It gets dark too early. I've been whining (or whingeing as my British friends say.) Complaining is fun for awhile, but then it gets boring. It's only the beginning of January, for goodness' sake! I decided to turn my attitude around.  Nothing like a walk with Lily Dog to get me to see the world differently. She lets me know that snow is meant for snuffling and galloping through. It's exciting.
There's a path near my house named Two Rod Trail. It's been there since before the Revolutionary War. In fact, the Minute Men marched down it to the infamous bridge in Concord where some say the war started. It's name comes from the fact that it is two rods wide. The stone walls are still there. But now, instead of fields on either side, there are woods. Perfect places for little animals to live. Someone besides us was also out and about yesterday.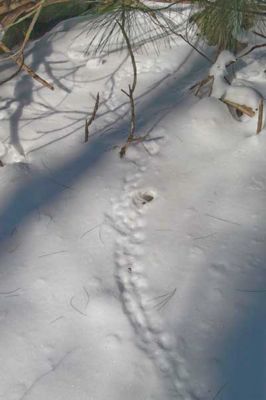 I imagine the pitter-pattering tiny feet, the furry belly dragging in the snow, the tail marking a fine line behind. I'm not a tracker, and my Guide to Nature in Winter doesn't give me a definitive answer. I can imagine all sorts of voles and field mice making their way through the snow. Beatrix Potter would have dressed them prettily. It's nice to imagine them curled up and warm in a bed of leaves under those old stone walls.