She looks darling and innocent, doesn't she?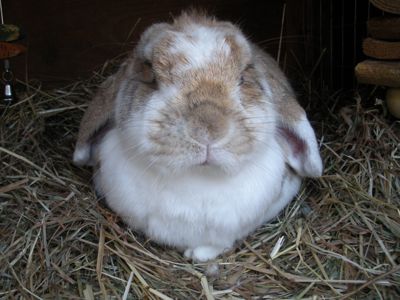 Candy is sweet. But she is a bunny, and that means she is curious and she chews. Even kept outside, a rabbit can do a lot of damage. When she first moved into the hencam barn, she chewed up the wire leading to the camera (which we thought was tucked up high and out of the way.) The wire is now covered with a sturdy conduit. Two summers ago, she got into my asparagus patch and in just an hour, dug a tunnel under the plants and ate up the roots. It takes a couple of years to establish a productive asparagus bed. Mine is well behind schedule. 
This week you probably have noticed the cheerful yellow sign in front of the hencam camera. I have a standing offer to schools and libraries that if they are reading Tillie Lays an Egg, that I'll put a hello! message up there for them. Candy noticed that sign. For some reason, bunnies LOVE to chew on plastic. She tore it to bits. I now have my hello! sign up on the hencam screen, not physically in the coop. Oh well, it works.