I am feeling a tad sorry for myself. After twenty plus years of shoulder pain that has varied from mild to severe, depending on my activity level (which has included stints in professional kitchens, writing cookbooks, heavy gardening and manure mucking) I am doing something about it. Actually, the pain finally gave me no choice. My MRI showed tendonitis in several areas and a couple of minor tears to the tendon, so yesterday I had a cortisone shot and was told to go to physical therapy for 6 weeks. I'm fine with that. But I was also told to REST and since my idea of "moderation" is not what my doctor was describing, I have to wear a sling for six weeks so that I DO NOT garden. Not even pull a weed. Or use my chef knife to chop the lovely veggies I'm growing. Or walk the dog holding the leash in my right arm. I'm sulking.
On the other hand, LuLu is feeling quite well. She is still in the infirmary with Buffy. They'll be there until LuLu's feathers grow back. Which they are! Take a look.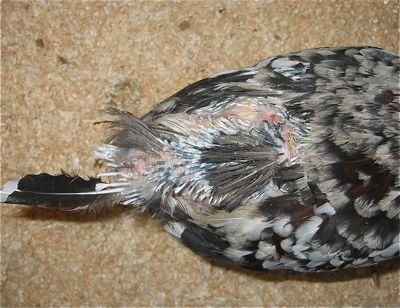 Those funny quill-like things are new feathers, not yet unfurled. For a chicken that my husband, who got her out of the clutches of the dog, was sure was going to die, this is a miracle.