I am sure that many of you are nerds (in this family, that is a compliment, not an aspersion) and so you will be very excited to learn that this year's Ig Nobel Awards will feature the CHICKEN!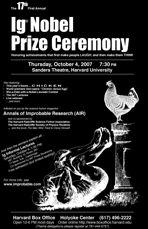 For those of you not familiar with the Ig Nobels, these are awards for real science, that should never, ever be repeated. The awards are given out by real Nobel Prize winners. One year, an Ig Nobel went to the inventor of blue Jello, another year an Ig Nobel went to the acoustic scientist who studied why people hate the sound of chalk screeching on chalkboards.
I can't wait to see what chicken research the Ig Nobel committee believes is worth their attention. My husband and I will be there. We are contacting the organizers to see if they would like some live chickens on stage.