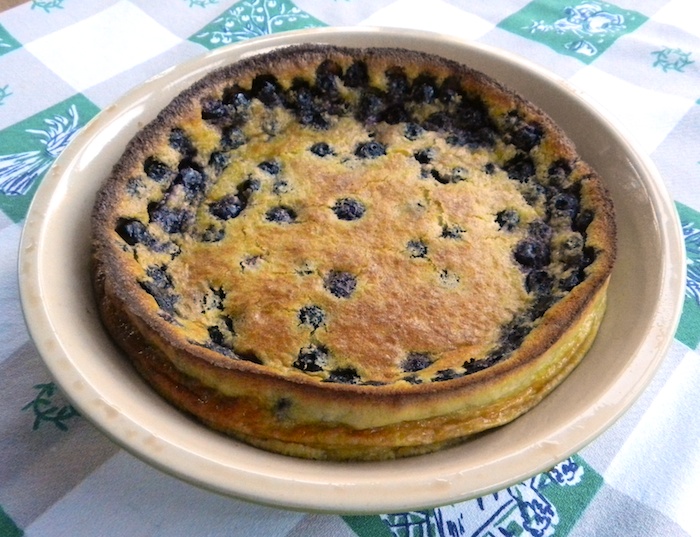 The classic French dessert, clafoutis, is not as popular as it should be here in the USA. It's truly easy to make and absolutely delicious. It's rather like a Dutch Baby Pancake, but thicker and dotted with fruit.
Blueberry Clafoutis
1 teaspoon sugar
3 large eggs (I used 4 pullet eggs)
1/3 cup organic turbinado raw cane sugar*
1/2 teaspoon vanilla extract (real, not imitation!)
1 1/3 cups milk
1/2 cup all-purpose flour
1/2 cup blueberries (fresh or frozen— don't defrost)
1. Preheat the oven to 375 degrees F. Spray a 9-inch pie plate or baking dish with non-stick spray (or butter the dish.) Dust the bottom with the 1 teaspoon of sugar.
2. In a blender, puree the eggs, raw cane sugar, vanilla and milk. Note: I've used whole milk, lowfat milk, and skim milk combined with 1/3 cup cream. All variations set nicely.
*I specify the turbinado sugar for the subtle flavor. Regular sugar is sweeter and not as nuanced. Also, regular granulated sugar is finer which means you use more of it when measuring in dry cup measurers. You can use regular sugar, but reduce the amount by 2 tablespoons so that the clafoutis doesn't turn out too sweet.)
3. Add the flour and puree until combined.
4. Put the blueberries into the baking dish and shake the pan to distribute evenly in one layer.
5. Pour the batter into the pie plate.
6. Bake for 35 minutes, or until the clafoutis puffs up and is set in the center. As it cools it collapses, but that doesn't affect how good the leftovers are!
Makes 8 servings.
Clafoutis lend themselves to so many delicious variations. A classic is cherry. I make a apple version, in which the apples are sauteed in butter and brandy first. That recipe will be in my upcoming The Farmstead Egg Guide & Cookbook, coming in March of 2014.