Pie crusts become tough when overworked. After a quick forming into a ball and rolling out, I cut a circle, which leaves scraps of dough. Good, expensive, butter-dough. I could save them and make one more crust, but, rolling it again will ruin that perfect pie crust texture. What to do? I make pie crust cookies. I form the scraps into a ball and roll it out, this time in something like a rectangle. Then, I dust with sugar and cinnamon. Then I put a single-layer of something, pecans, or chocolate chips, or chopped apples – whatever I have leftover from pie baking, on the dough (leaving the edges empty.) Roll it up. Slice it like you would a sugar cookie log. It'll look like rugelach. Place on a non-stick baking sheet (I always use parchment paper.) Bake in a 375 degree oven until lightly browning on the edges.
A baker's well-deserved treat!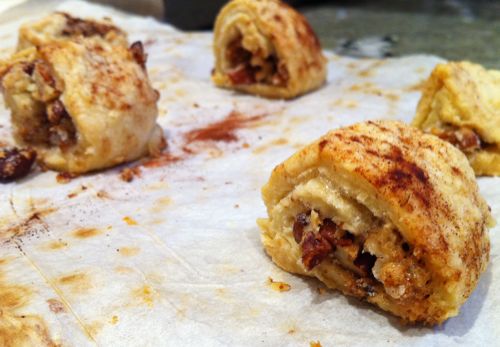 These are pecan pie-crust cookies.