Last weekend, Steve and I went to Salem, a small city on the north shore, to go to the Peabody Essex Museum to see the Ansel Adams exhibit. The photography was beautiful, but didn't move me. What did surprise me, and stop me in my tracks as we walked through a gallery, were a few pieces of porcelain. The museum is known for it's collection of export Chinese ceramics, which is not an aesthetic that usually interests me. But, there was a small teapot (?) with a charming face. I looked closer. A crawfish held onto the spout. On it's head was a lotus seed pod. It was an object that made me first ask, "what is this?" and then "who would think this up?" and then "why?" And then it made me smile. That, to me, is the perfect museum-going experience.
We wandered into another gallery, an old, high-ceiling room with ship figureheads mounted onto the walls. There were also display cases that held what appeared to be Victorian-era items of curiosity. There was this taxidermied bird: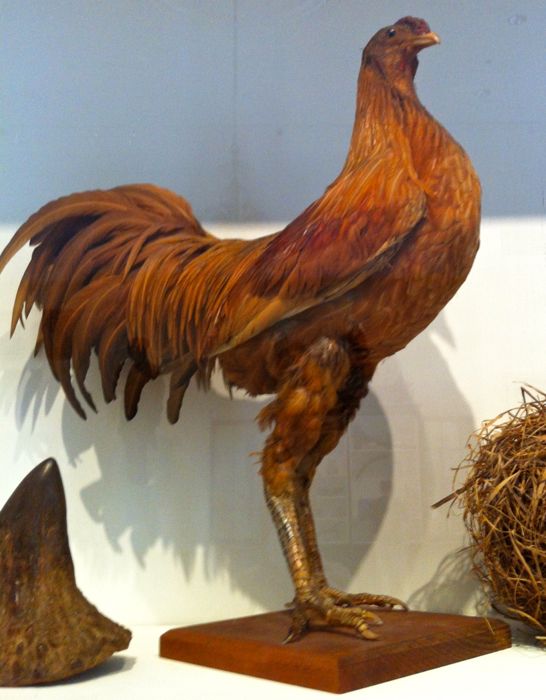 The label (quite high-tech on a computer screen) stated that this was a jungle fowl, captured by a Captain Wheatland in 1846, and that (although disputed) this very rooster was the progenitor of the Rhode Island Red.
Here are my RIRs, Ruby and Garnet. See a resemblance?
You never know what you'll come across when you visit a museum.