I've cared for numerous animals, and so I can tell you that it is the modest chicken that makes a mess of every inch and nook and cranny in your barn. These birds scratch and shred anything that is underfoot. They produce copious amounts of manure, which gets turned into dust by their scratching. They shed keratin from their feather shafts which is also minced to bits by their feet. Mix this powdered manure/bedding/feather material together (as they do, what with their dinosaur feet grinding everything into bits) and what you have is a fine, sticky dust that coats everything.
For the sake of my bird's health, and my own, and also to simply enjoy being around my flock, I keep the coop tidied up. I skip out manure twice a week. Every weekend I do a more thorough job (to read about manure management read this post.) I sweep down cobwebs with a broom. My barns are very well ventilated with fresh air, and sunlight streams in. Still, at the end of the winter, dust has accumulated.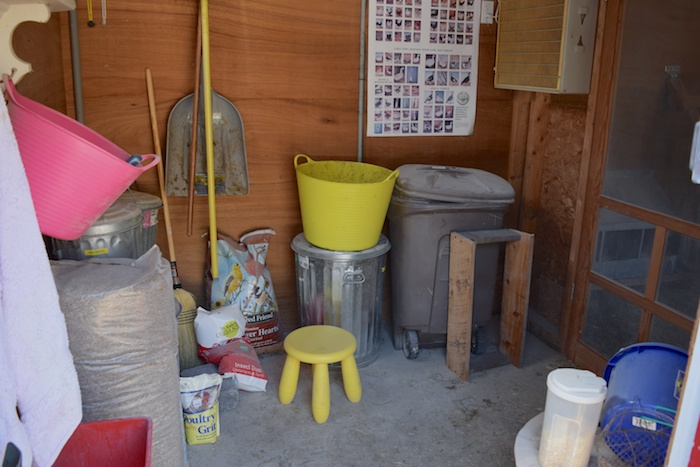 It piles up in the windowsills.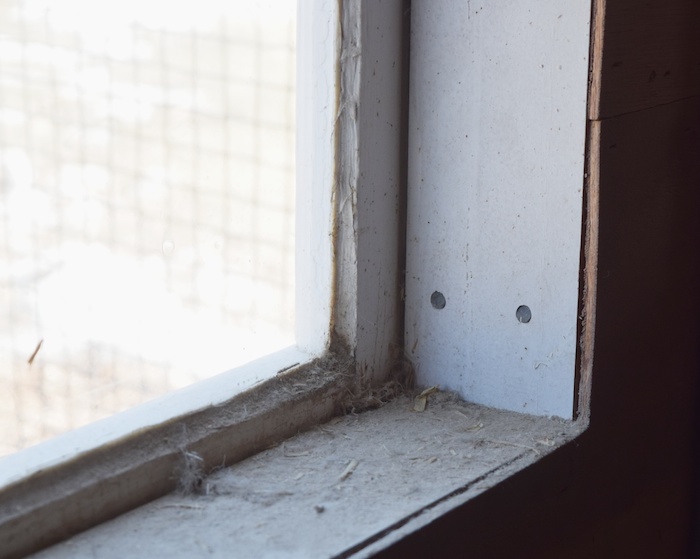 The dust is so thick that it almost obscures the labels on the storage cans.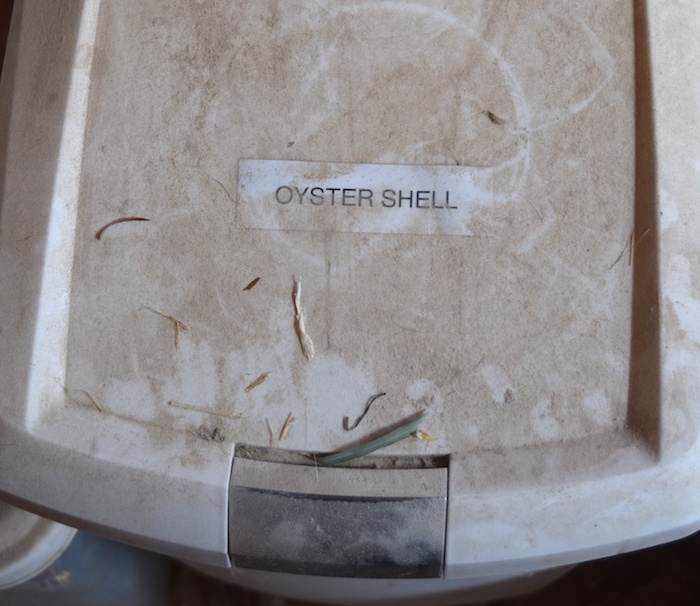 Cobwebs drip down.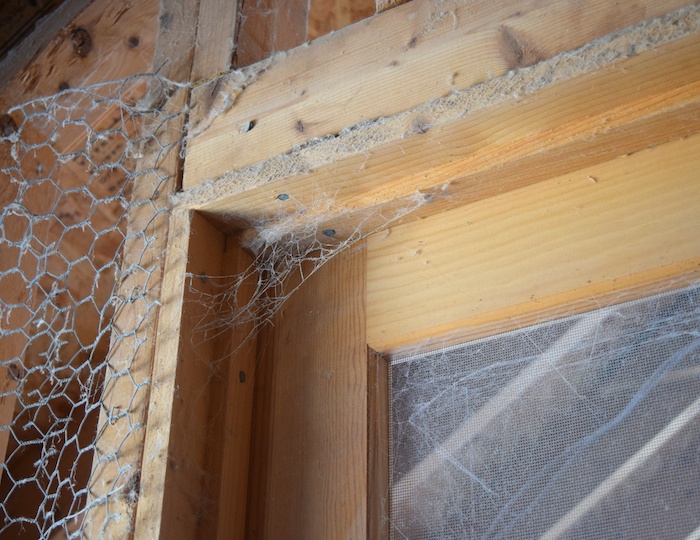 This is not just unsightly. Cobwebs and dust hold viruses and bacteria. The dust itself impairs breathing. It all contributes to respiratory disease. So, at the end of the winter, which is finally now, I do a thorough coop cleaning.
All of the bedding is shoveled out.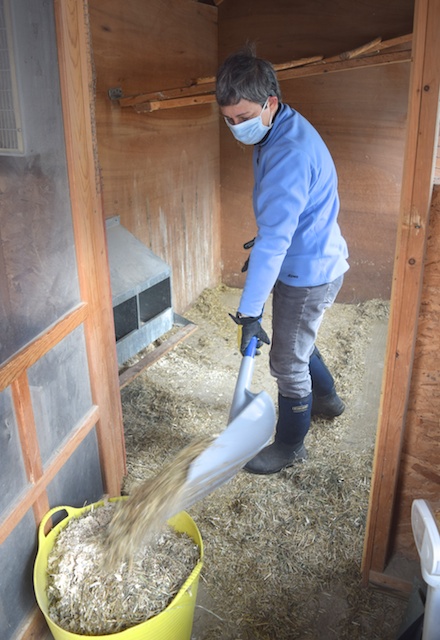 Notice that I wear a dust mask. As well maintained as my coop is, that protection is necessary.
The old bedding is dumped into the manure pile at the side of the pumpkin patch.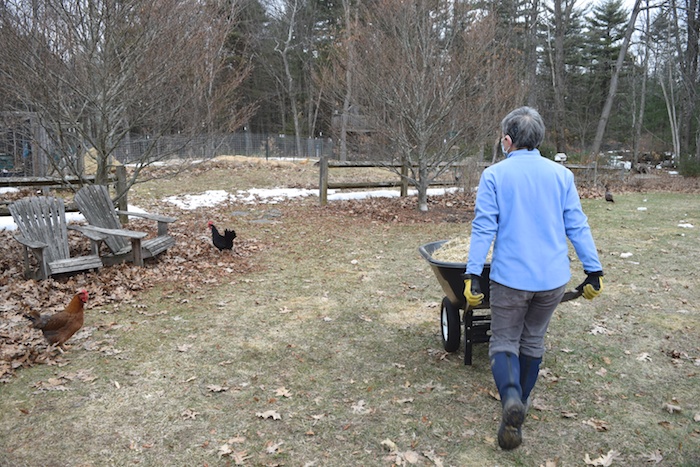 I sweep every last bit up. See all of the dust that was under the bedding?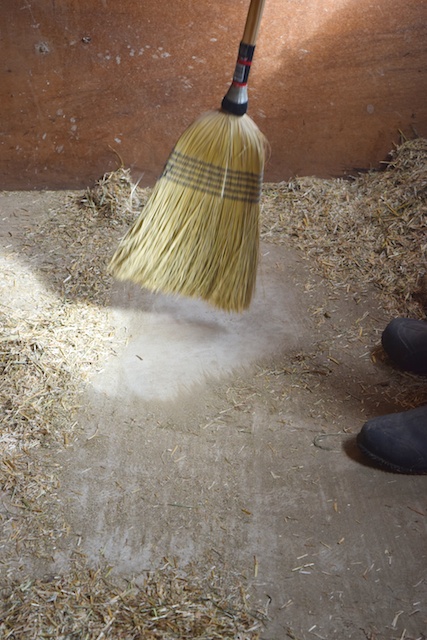 Next, I get out the shop vac. I even get on a stool to reach the cobwebs that have been blocking the cupola and the soffit vents in the eaves.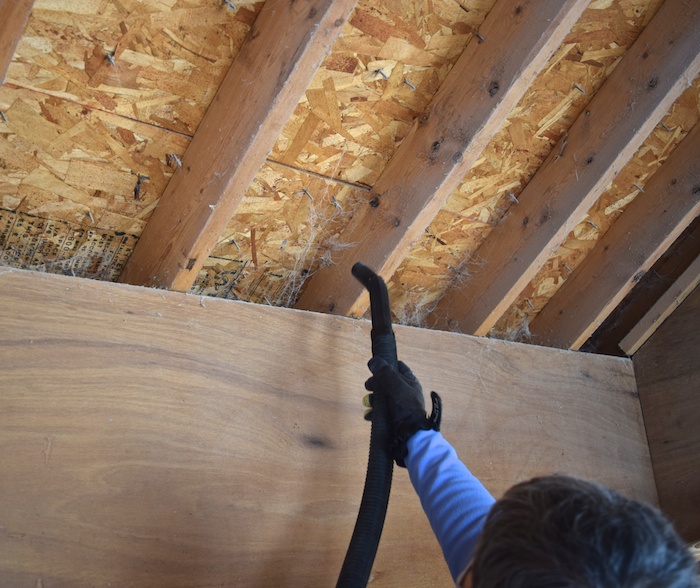 I wipe down all surfaces, and wash the windows to let the sun in. The storage area is tidied up, and forgotten bits and bobs that  accumulated when it was too cold to bother with them, are stored properly or thrown out.
I don't wash the walls. This is not a disinfecting cleaning like a commercial barn does between selling off old, and bringing in new stock. Not only is it still too cold, but I need to get the hens back into the barn. A washed barn remains damp for days, and that's not good for the chickens.
Lastly, I put down fresh bedding. I used pine shavings for years, and it's excellent. Recently, I've switched to Koop Clean, which is chopped hay and straw with a desiccant mixed in. The chickens stay active looking for tidbits in the hay, and it keeps the coop very dry and sweet-smelling.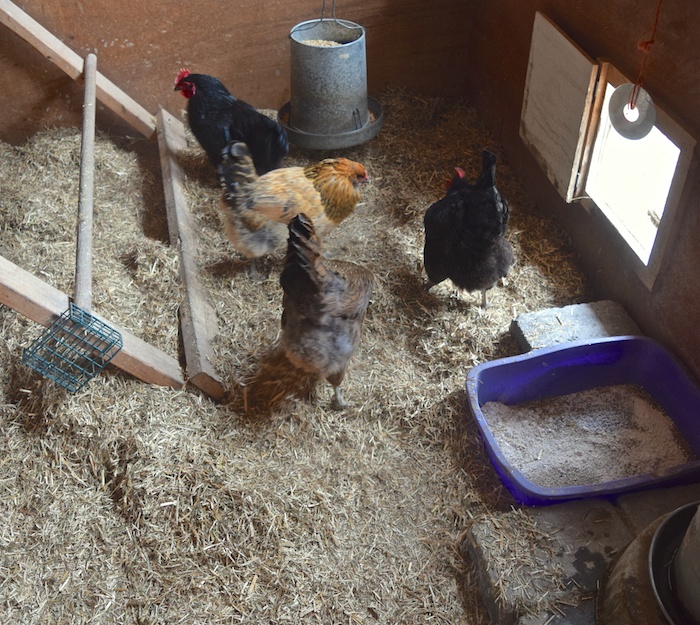 It's a lot of work to do this sort of thorough end-of-winter coop cleaning, but it is ever so satisfying. The air in the barns feels fresher, and it's wonderful not tot kick up a puff of dust when feeding the hens.
The animals always come first. Now that their home is readied for springtime, I can get into the garden. I've already begun raking the leaves out from the perennial beds. I surprised a toad! Springtime is definitely here. The last bit of snow will be gone by the end of this week.  I have a good deal of satisfaction knowing that my coops are ready for the warm months to come.