We're on the second day of a snowstorm. It's not blizzard conditions – we can still see into the distance – but the snow is blowing and piling up.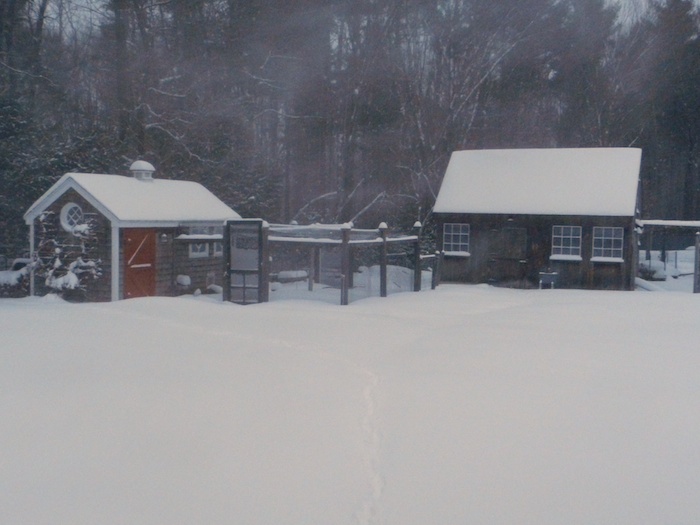 It's cold.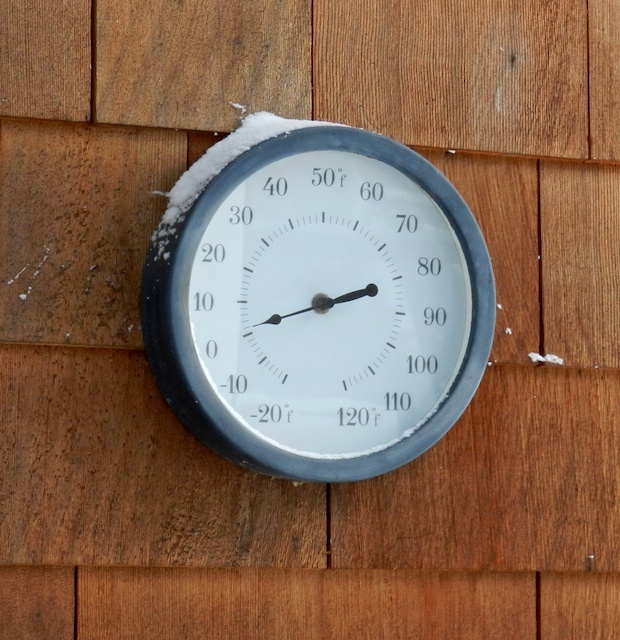 Last night that needle dropped below 0°. That's Fahrenheit.
I was worried about Twinkydink. She's ailing and too feeble to roost. At 9 pm I went out into the coop to check on her. She had smartly tucked herself into a nesting box. She was comfortable, as were all of the other girls. Hens have about 10,000 feathers. They fluff them up and trap warm air next to their bodies. Take a look at Veronica. She's not feeling the cold at all.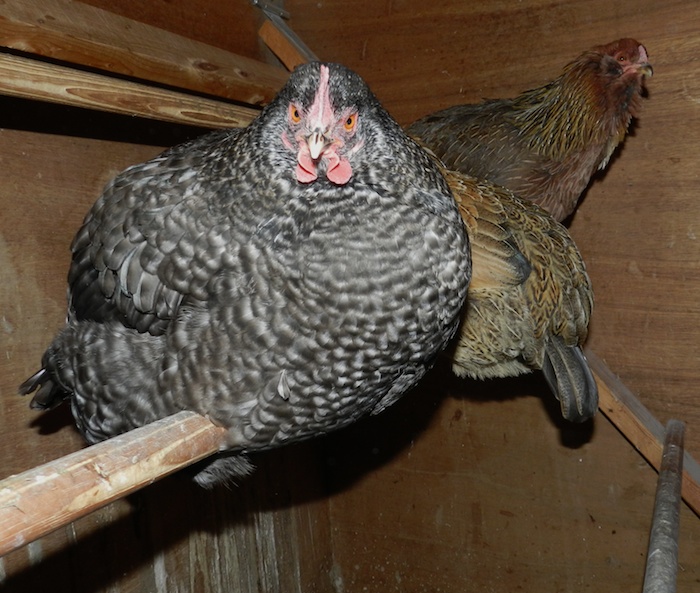 The Gems were huddled up on their roosts. (Ignore the spots on the photo, snow had gotten onto the lens.)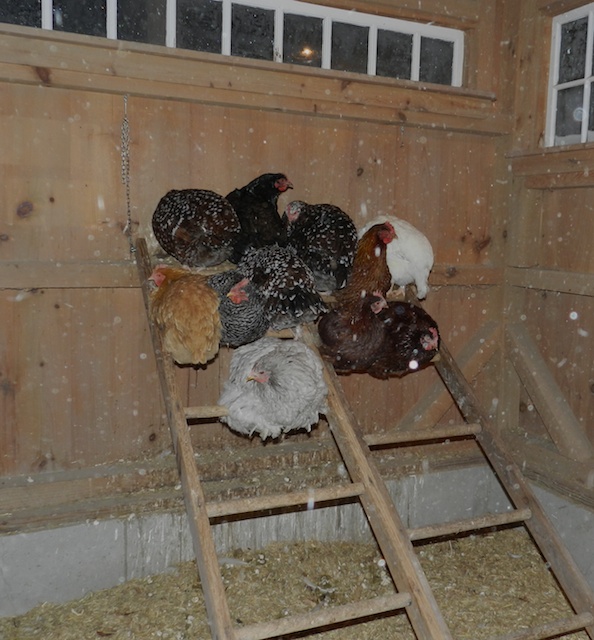 Frostbite on combs can be a concern. This morning I hurried outside to check on the Ladies. Twiggy, being a Leghorn, is not a typically winter hardy breed. She's sleek (so she doesn't have the dense, soft undercoat of feathers) and she has a ridiculously big comb. That helps to dissipate heat in the summer, but in the winter the tips can freeze. But, she's sailing right through this cold spell. Here she is with Nancy Drew, both of whom have healthy combs.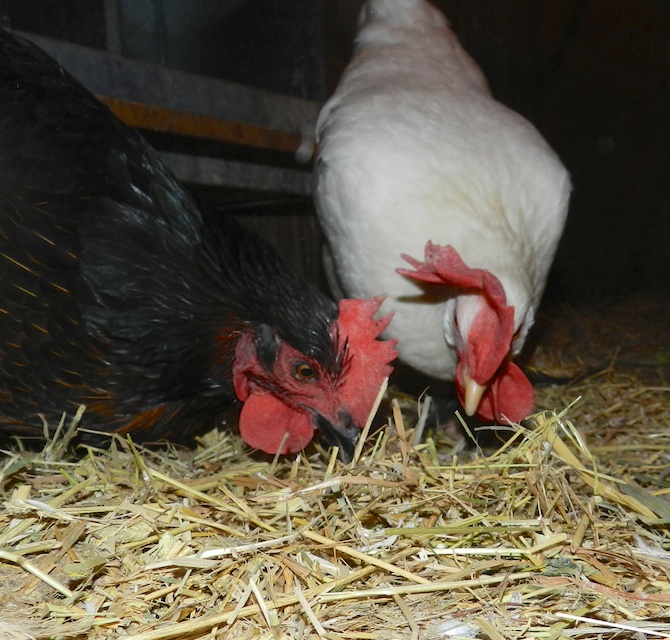 In fact, Twiggy was feeling so chipper that she put some thought into where to lay her daily egg.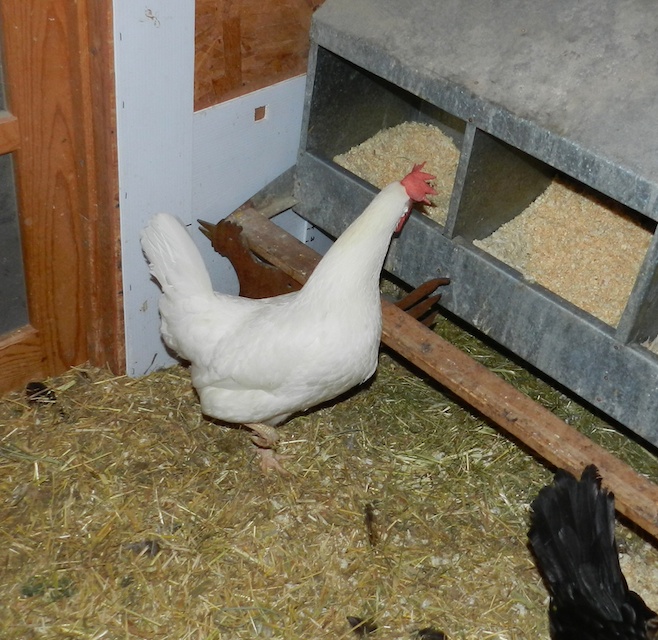 What with the wind and the deep snow, the pop doors are staying shut and the hens are staying in. However, first thing in the morning Phoebe has to go out to do her business. Which she did. But, even for her, the weather was a bit much and she came back in and I closed them all snugly up.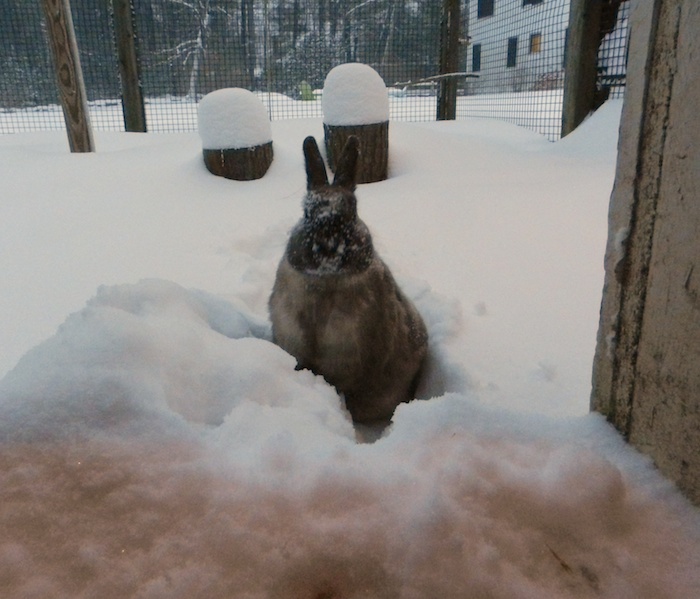 For this extremely cold weather, the only change that I make in the care of the hens is to give them a few handfuls of a mixture of corn and hulled sunflower seeds, which provides the extra fat and calories that they need to replenish what they burn off to stay warm. Tossed into their bedding, this feed will also keep them busy. I also make sure that they have some greens, or a cabbage, to peck at.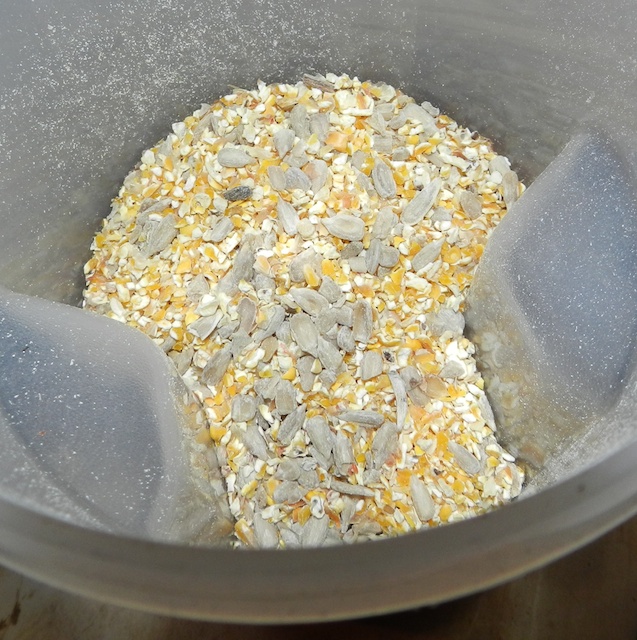 I don't hang a heat lamp. My coop isn't even insulated. I don't bother with feeding warm mashes and yet my hens are doing great in this cold weather! I've heard about many flocks which are not. Here are some reasons why my girls are doing fine:
• The coop has ample floor space so that the flock is not stressed from crowding.
• The coop has windows so that the hens wake up and eat and drink, even during dreary days. Hens won't eat or drink if huddled in a dark coop.
• The coop has ample air space, so that moisture and fumes from manure moves up and out quickly, which means that the hens are breathing clean air.
• The coop has roosts well above the floor, so that the hens are not sleeping over their manure.
• The coop is clean and dry, with fresh bedding added during the storm.
• The coop is well-ventilated, yet there are no windy drafts.
• The waterer is on a heated pad, and so it never freezes. Access to fresh drinking water is essential.
• The feeder is full, and is indoors so that the hens can eat throughout the day. It is placed so that even the meekest hen can eat in peace.
• There is a tub filled with sand and cup of food-grade diatomaceous earth for dust bathing inside of the coop. That keeps them healthy and comfortable.
Here are the Ladies, who are cheerfully going about their day. They're not even huffed up, even though the pop door is open while Phoebe is in the snow. It is 1°F.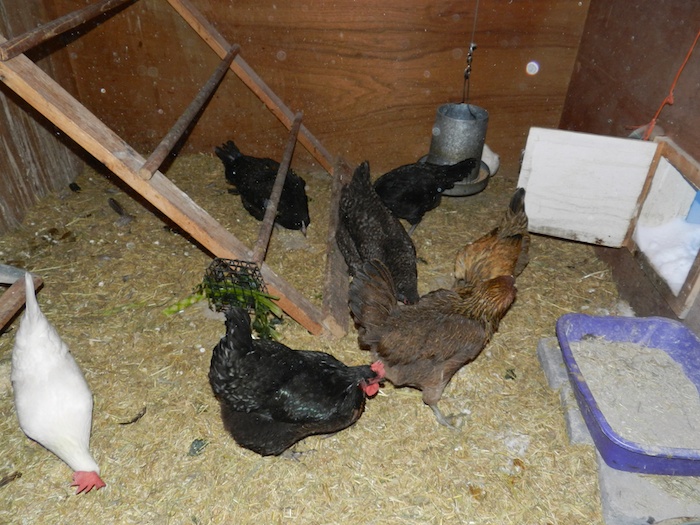 What I've written above works for my flock. Some of you are much further north, and the temps are far colder. Some of you have coops that aren't as well ventilated, or perhaps the wood floors hold moisture and so the air isn't as dry. Perhaps your coop doesn't have enough windows. Perhaps you've worried about your hens and wrapped the run in plastic, and thereby created a dangerously moist environment. Or perhaps all of your hens are old like Twinkydink. As always, pay attention to your animals. Despite the cold and your own discomfort, spend some time watching their behavior. Is everyone eating and drinking? Active? Does the coop smell right to you? Adjust your husbandry according to how the flock behaves. Don't hang a heat lamp just because it's cold. But do make changes if you notice an actual problem. When I finish writing this post, I'll be going out to the barns to skip out the manure and observe my animals. The last few days I'd noticed that Beatrix was the last to get off the roost and she wasn't looking so perky. I'll take an extra moment to watch her.
What I won't do is worry excessively about this cold spell. I've kept chickens here in New England for almost twenty winters. I've seen weeks of zero-degree weather and I've never seen a hen freeze in place! I've never even seen frostbite or a respiratory disease. Chilly, rainy weather, and extreme heat is far worse for your flock's health. As long as your hens are housed and fed properly, extreme cold is more of a bother than health risk.