A couple of months ago, Agnes looked poorly. She sunbathed, hunched and fluffed. She didn't lord it over the other hens. Her comb turned dark and shriveled.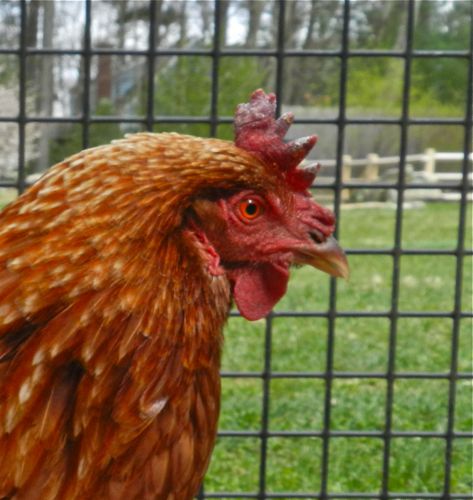 This is a sick bird.
Agnes is a Golden Comet, which is hybrid designed to lay day in and day out for two years. After that, it's assumed that she's done. She's three and she hasn't laid an egg yet this spring. Neither has her sister, Philomena, who doesn't look sick, but is also depleted. A real farmer would dispatch them. I'm not a real farmer and so I've come up with some treatments to help these old hens.
Agnes looked to be on death's door last month, but she's still here thanks to epsom salts. Epsom salt is a combination of magnesium and sulfate. You can find it in the pharmacy, as it's used by people as a laxative and as a foot soak. For such a simple and inexpensive product, it has many curative functions. The magnesium improves circulatory health, flushes toxins, improves muscle and nerve function, maintains the proper level of calcium in the blood and increases oxygen use. The sulfates help form brain tissues and joint proteins, creates mucin proteins that line the digestive tract, detoxifies contaminants, and improves absorption of nutrients.
Obviously, epsom salts might be jus the thing for a hen worn out by expelling calcium and protein in the form of eggs.
There are two ways to dose the hen. One is by dissolving 1 teaspoon in an ounce of water and, using a syringe, carefully squirting it down her throat. The other is much easier. Fill a small washtub with warm water and stir in a heaping 1/4 cup of epsom salts. Put the chicken in the bath. Let her sit there for 15 minutes. She'll like it! (I have a YouTube video of how to bathe a chicken here.) If it's a chilly day, blow dry before putting her back out. If the epsom salt treatment is going to work, it will after two days, a treatment each day (oral and/or bath both times.)
I did both treatments, and it worked for Agnes. She's still with us. Look at her comb now.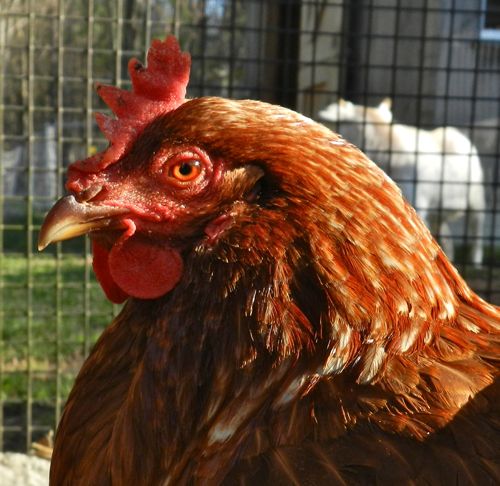 I still don't expect Agnes to lay another egg, or even last past the summer, but I've made her more comfortable. I even saw her lord it over the treats the other day and peck Betsy out of the way. The old girl is feeling better.