I vowed that I wouldn't write a cliched post about spring. No photos of an emerging crocus or apple blossom here! Well, spring is here, and I couldn't do such an overworked topic, even if I wanted to. The mornings still sparkle from a hard frost,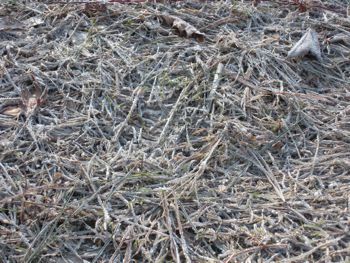 and there's nary a crocus in sight.
But, there is incontrovertible proof that spring has arrived. This: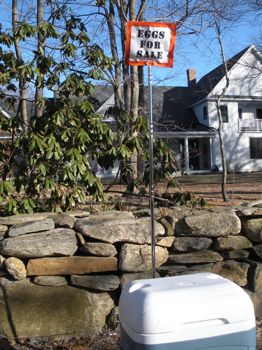 This week I collected enough eggs to sell 3 dozen! It makes me happy to think that my neighbors are enjoying the good eggs from my flock. I also admit to like having the bills that my customers leave in the jar. There's something about "egg money." It's only a few dollars but it makes me feel rich. I can only imagine how a farm wife felt about the money she brought in from her own flock. Often, it was the only money that she had. Even more importantly, it was her money. In an economy where there was little cash, and the main farm income came in seasonally, with long gaps between earnings, having that saved away jar of egg money was often, literally, a life saver.
My egg money goes in my wallet. I'm having coffee with a friend later this week. When I spend $4.00 for a latte, I'll thank the girls. It'll make the coffee that much more special.