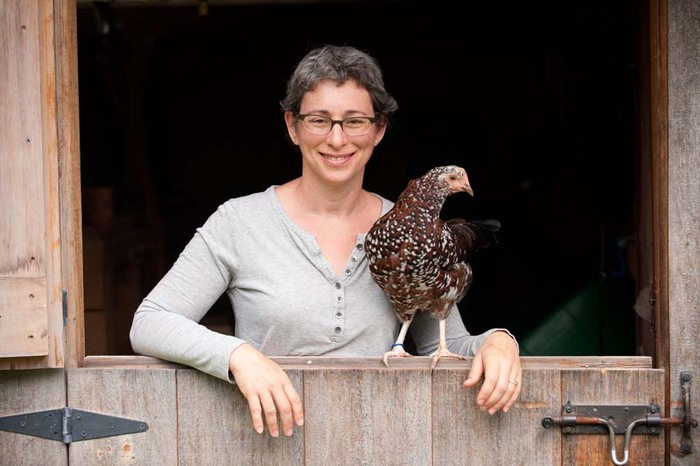 My earliest wish was for a horse, but I would have been happy with any animal in my life. I was allowed only tiny turtles until my older brothers went to sleep-away camp, at which time I was given a guinea pig so that I wouldn't be lonely. I didn't want my brothers to come home because I thought I'd have to give Chester back! Luckily, that was not the case. Eventually, I was permitted to keep a couple of stray cats and a dog (all of which found me) and to ride horses. Despite what my parents were told would happen, I never did not outgrow my love of farm animals, and so in college I studied animal science and then trained horses and taught riding lessons for a living.
In my early twenties I left the professional horse world when I got a job in the kitchen of a health spa, which led to teaching cooking and food writing. My first cookbook was a James Beard Award nominee. My third book, 1,000 Lowfat Recipes, is relied on for daily meals by many. During this time, I married, had two sons, and landed in a town outside of Boston. The backyard was too small for hoofed animals, but I could keep chickens.
A move to a larger property allowed for an expansion of the flock, the addition of two goats, and an abundant kitchen garden. One favorite little white hen inspired my picture book, Tillie Lays an Egg (Scholastic, 2009) which received much positive press, a PW starred review and the appreciation of Martha Stewart—Tillie and I appeared on her television show. (For a detailed listing of press go here.) My interest in chickens and cooking led to the writing of The Farmstead Egg Guide and Cookbook (Houghton Mifflin Harcourt, 2014).
I share the joys of my backyard animals with a worldwide audience via HenCam.com, which features live-streaming cams on my flock and goats. For ten years my blog chronicled the on-going joys and travails of a life with chickens.
After years of riding other people's horses, I once again have my own – a paint gelding named Tonka, who I trail ride and do dressage with. I've spent years steeped in the science and theory of positive reinforcement training and in animal ethology. I've been applying that to horse care and riding. I have my Professional Training certificate from the Karen Pryor Academy and am insured. I am available for training consultations and riding instruction. Find more about horses, and read my blog, at The Cooperative Horse website.