I do love old egg baskets. So, when I stopped at an antique coop on Saturday, and spied a wire basket that I didn't yet have in my collection, I couldn't resist. I have one of this style, but not of this size!
The vintage basket that I use daily is on the right. The new, super-sized basket is on the left.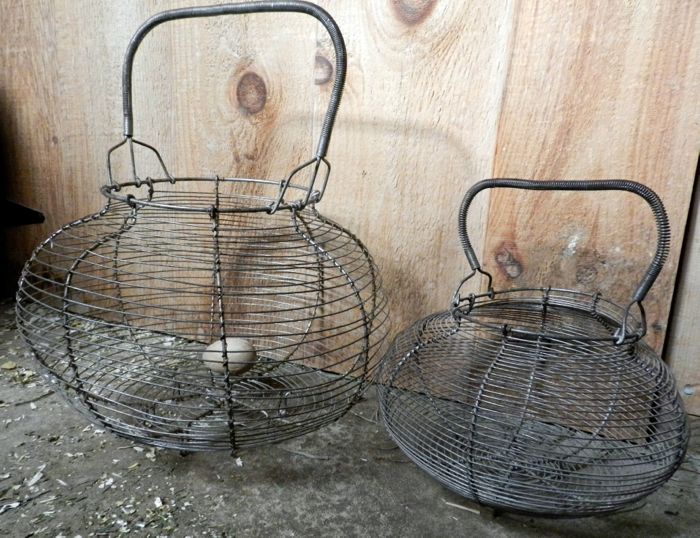 I
Of all of my baskets, I think that this style is the most practical. The little feet on the bottom keep the eggs from smashing if I set the basket down too quickly (as I have done, and have had broken eggs to show for my carelessness.) The shape keeps the eggs securely in the basket, even if it tips, or a dog knocks it as I walk (again, spoken from experience!) The handle is comfortable and secure. All in all, a design that is both beautiful and functional.
But, perhaps I am being a tad too optimistic thinking that my new basket will be useful in the barn? The four eggs a day that I'm currently collecting would roll around in it and crack. So, I have brought the basket inside to display the eggs that I have blown out. They used to fill a bowl in the dining room. That basket is so large that now it looks like a small collection.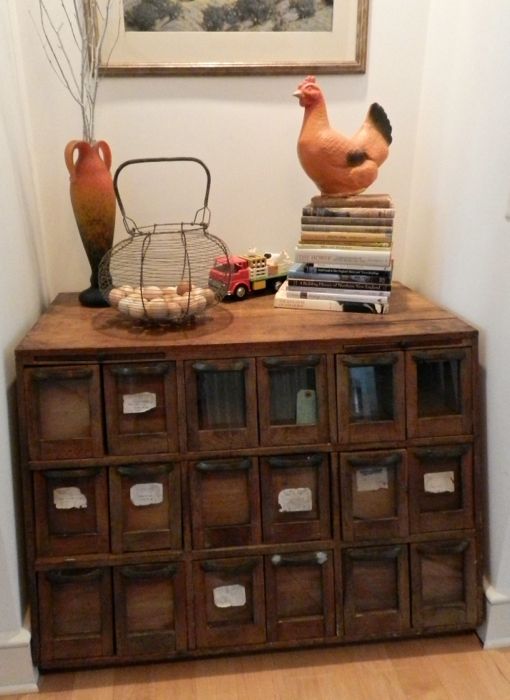 This is a cabinet in my entry hall. It's a seed chest from a southern hardware store. Perhaps in years past it held a similar basket, holding eggs for sale.