Two weeks ago, I was at the Equine Affaire (a horse trade show/extravaganza) where I came across the Lucerne booth. They sell hay from their farm in Maine. I've been looking for a source of chopped alfalfa to feed to my flock, and they sell it in bags (although it's coated in molasses, it'll do in a pinch.) When I told Rich, the company president, what I wanted alfalfa for, he showed me a new product that they've just developed specifically for backyard flocks called Koop Clean.
Before the advent of bagged shavings, chicken keepers used all sorts of bedding in their coops. Hay and straw is not absorbent, tends to mold, and can cause crop impactions, but it was inexpensive and widely available. To make it usable as bedding, farmers chopped it into bits. Farms were equipped with simple machines to do this work. Koop Clean takes that old idea – chopped stalks of hay and straw – but adds a new component. Mixed in is ground zeolite, which is a naturally occurring mineral that absorbs moisture and odor.
Rich gave me a bag to try.
I shoveled out (and put into the compost) all of the wood shavings in the Little Barn and replaced them with Koop Clean. The Ladies were ecstatic. They went right to work, scratching and pecking. I spied on them via the HenCam. The Koop Clean kept them busy all day, except for Buffy, who happily settled down onto the soft bedding.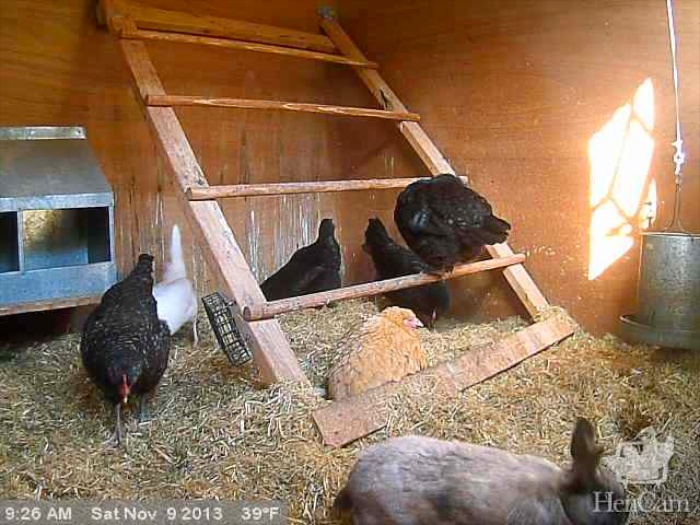 This is what you want to see – active, foraging hens. In the winter it is hard to achieve in a small space. Scratch grains tossed into the bedding don't last long. Even hanging a cabbage has them rooted to one spot. (Some people use deep litter, and In another post I'll go into detail about why I don't like that option for backyard flocks.)
I really liked how the flock behaved with the Koop Clean.  The only problem was that the girls were kicking it up with such enthusiasm that I had to raise the waterer to keep it clear of flying bedding.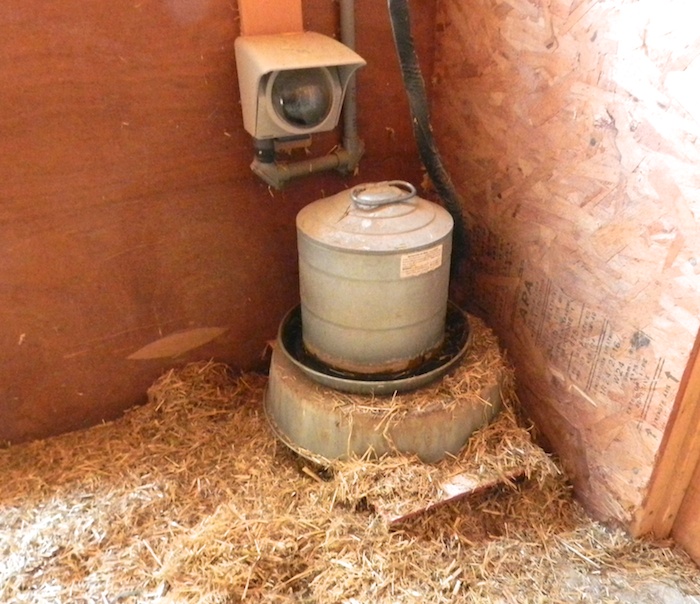 When first spread out in the coop, it smelled wonderful – a true barn smell, of sweet dried grasses, like late summer in a field. As the week wore on, that aroma dissipated, but the odor of chicken manure didn't take over, despite the fact that it accumulated as usual, especially under the roosts. I muck out weekly, and the manure was as dry and as easy to pick up as it is in shavings. The task would, however, have taken a tad less time without the rabbit's help.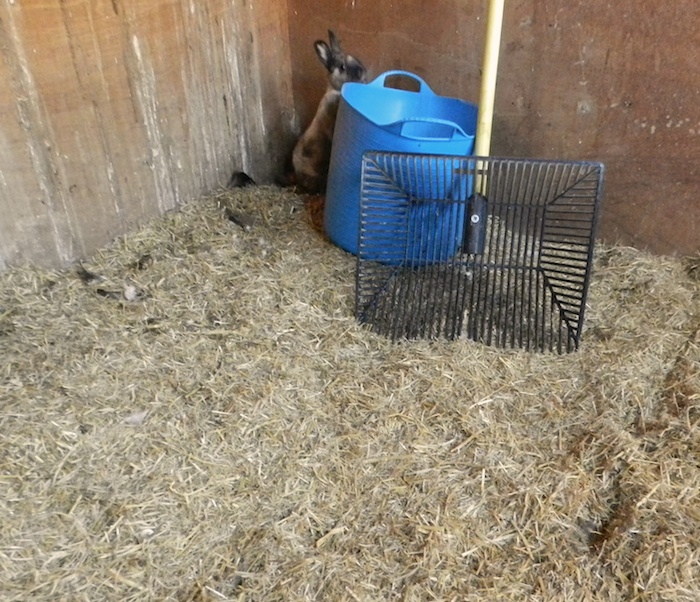 I was impressed enough with the trial that I bought four bags. The product is not yet widely available, so I used the dealer search page on the Lucerne website to find a store that carried it.  I had to drive a ways to purchase it, but I always love an excuse to go to a new feed store, and Orde Farm in Hollis, NH was worth the trip.
I spread out a bag in the Gem's coop. To contain costs, I didn't remove their clean old shavings. The Gems didn't care – they set right to foraging and happily clucking over the change in their bedding.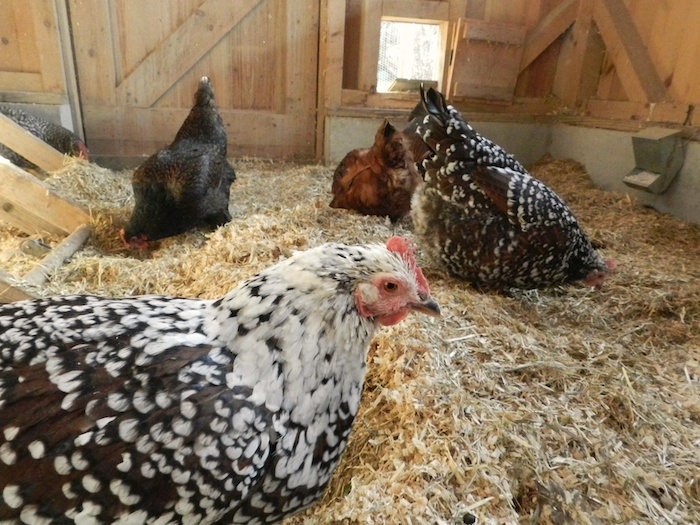 Koop Clean is more expensive than what I've been using. It is $13 a bag, rather than $7 for pine shavings. Still, I think it will be worth it, at least for the winter. The hens will eat bits of the hay, and will stay healthier because they'll be active. I get the benefit of the barn smelling like what I think that a barn should. I don't know yet how frequently the bedding will need to be replaced, or how dusty it will be compared to shavings. When I find out, in a month or so, I'll let you know.
Koop Clean is a good product. Almost good enough for me to excuse the spelling of Koop.
In case you are wondering – I don't take sponsors or advertising here – the ads you see are put there by Google (I get paid a small amount for each ad clicked on.) My comments here are not influenced by the manufacturer.