In the garden at the end of August, it's a race against time. There's a small window of opportunity to get the crops in when they are ripe. A few days too late and the bugs and rot get them. This week my peaches, basil and tomatoes have all peaked. (As have the cucumbers and chard, but I'm ignoring them!) I have a friend who is an avid canner, and I know she's working hard in her kitchen, putting up spiced pears, tomato sauce and pickles. Me? It's just too hot and the last thing that I want to do is to stand over a hot stove. Thank goodness for my crock pot and freezer. I make "It's Too Hot' Tomato Sauce.
Before going out to harvest tomatoes, I turn the crockpot on high, add enough olive oil to coat the bottom, and toss in chopped onion (I didn't grow onions this year, but did purchase some at a farmer's market.) My neighbor always shares his garlic crop with me, and I peel and mince (I use a garlic press) about 6 big cloves and add them to the pot. I let this sauté to develop flavor while I go out to the garden to get a trug-full of tomatoes.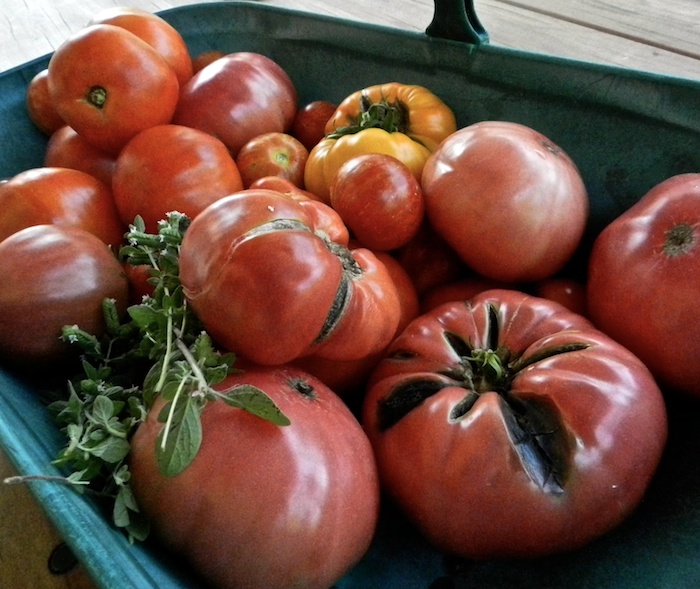 I also pick oregano and basil. All get a good washing. The tomatoes have cracks and big stem ends. That's okay. The trimmings go to the chickens.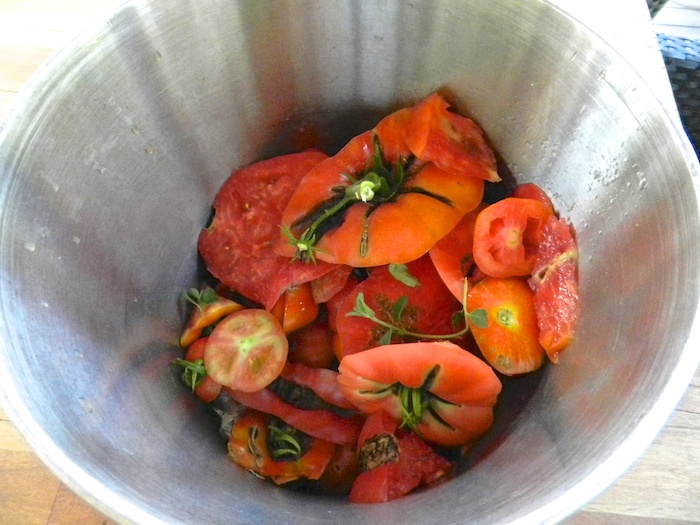 I chop the tomatoes and put them into the crockpot. (I leave the skins on.) The herbs are tied with string (for easier removal later) and tucked into the pot. I stir in some good sea salt. Cover. And wait.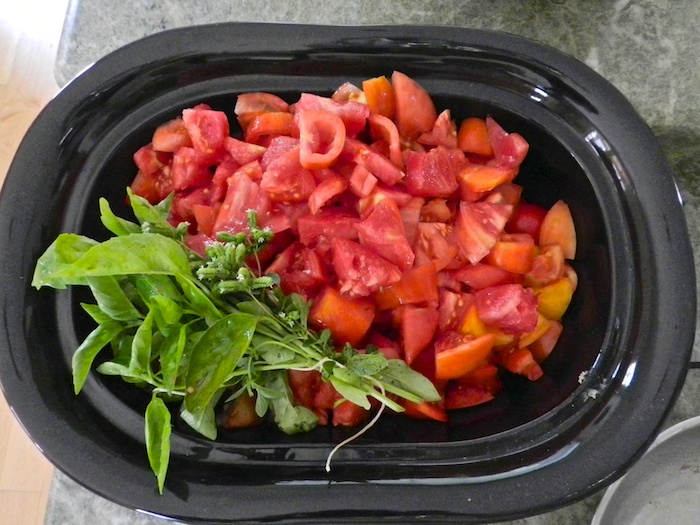 Six hours later the tomato sauce is ready for the freezer. I'll eat it this winter, when I want to add some warmth to my days!