The perfect hard-cooked egg is cooked by steam. Thank-you to Terry P's comment yesterday, saying that steaming eggs for twenty minutes make eggs easy to peel, I decided to do some investigating on my own. I took freshly laid (that day!) eggs, put them in a steamer basket, and to my great surprise, the peels came off easily. What was going on?
You food science geeks out there might have a more detailed explanation, (and I'd be happy to hear it) but basically, steam is a gas and so is able to penetrate the egg shell's pores. The steam toughens the membrane between the egg shell and the whites, allowing the egg to be peeled without any trouble at all. Water's molecules are too big to enter the egg, so although the insides become set from the heat, the membrane isn't affected.
Why didn't I know this? It's one of those hit yourself on the head and go "duh!" moments. I've seen these egg cookers at flea markets and have thought how neat looking they were, but never thought about how they worked.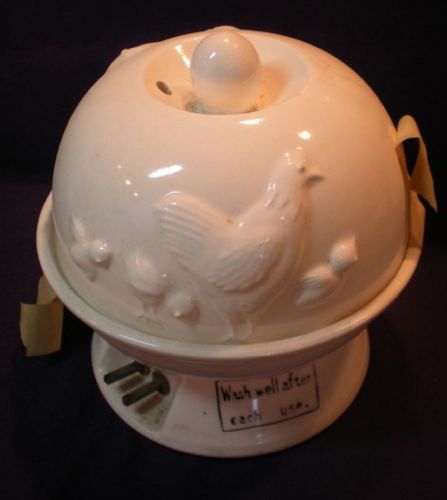 They're egg steamers! Obviously, a lot of people knew that you could take fresh eggs and hard cook them to perfection in steam. But, if you didn't grow up with one of these appliances, that knowledge was lost.
I know what I'll be looking for at a flea market this spring.
By the way, vinegar has a totally different effect on eggs. It reacts chemically with the shell to break it down into calcium carbonate and gas. If you leave an egg in a bowl of vinegar, the shell will dissolve. Leave it in long enough and the egg turns into a rubberized ball! (This was one of my son's favorite science experiments.)