A little over seven years ago I decided to get another dog, not for me, but for Lily.  I'd already had Lily for over four years, and it was clear that she didn't have the temperament to meet and make friends with new dogs on the trail, or at lessons, or in contained dog parks. I'd tried all of those options. She was reactive and wary and didn't read other dog's body language accurately. She longed to play with other dogs, but they stressed her out. Stress can cause aggression. Add to the mix that Lily took her farm dog job seriously. She chased a neighbor's Portuguese Water Dog out of the Beast's pond. She told a clueless Labrador who wandered over, to get away from the goats. She'd encounter these same dogs out on walks in the woods. Were they friend or foe? I knew how, and did, do much work with her to calm around other dogs. However, she was an older rescue when I got her, and she'd missed out on that crucial socializing stage during her first few months. Lily was never going to be a relaxed social butterfly. She needed a dog friend that she could feel secure with. She needed a best buddy at home.
So, I went looking for puppy under ten weeks of age. I like intelligent and athletic working dogs. I like mixed breeds. One constraint was size. Lily travels in the car in a large crate, and there was only room in the back for an additional small crate. A dog about twenty pounds would be right. Lily liked boys more than girls, so I'd get a neutered male. I perused PetFinder.com, and there was a corgi mix mama, who had three adorable pups up for adoption! She was exactly the size and temperament I was looking for!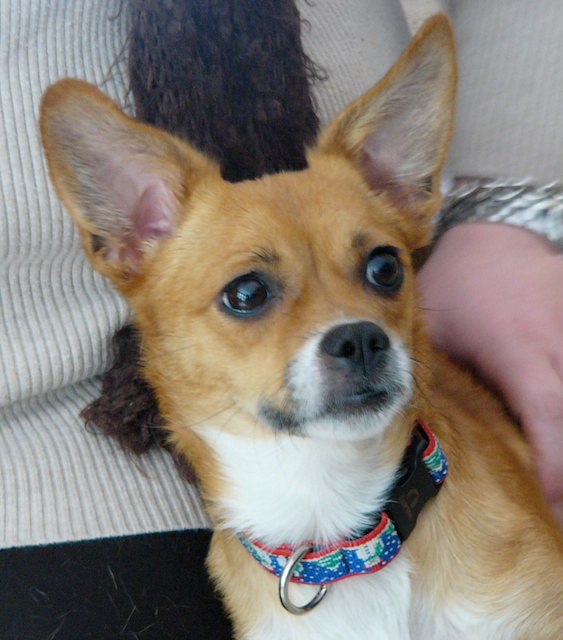 She and the pups were in foster care in a household with other dogs, one quite large and energetic, which meant that they'd been well-socilaized and used to a dog like Lily. The household also had a teenage boy, which also fit in with my criteria. I'd be able to bring the puppy home when he was only ten weeks old, so I'd be able to train him right from the start. No issues!
I chose the little male (sleeping to the far left.) With those coats, I was sure that I was getting a Corgi-Terrier mix. Perfect!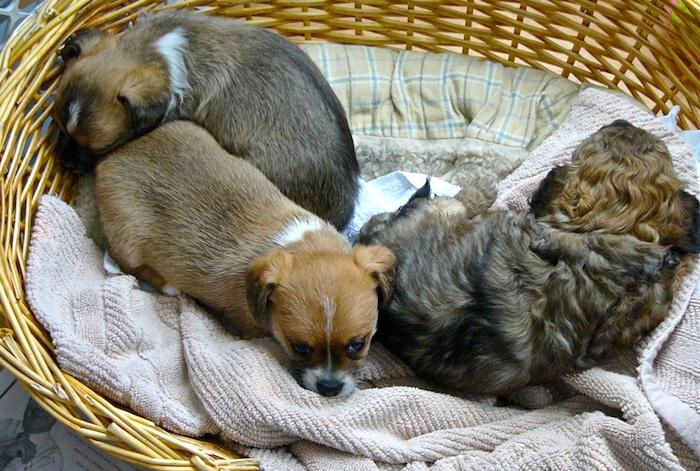 Lily was not immediately ecstatic. Was this a new squeak toy? A chipmunk? The first week I rewarded her for calm interest.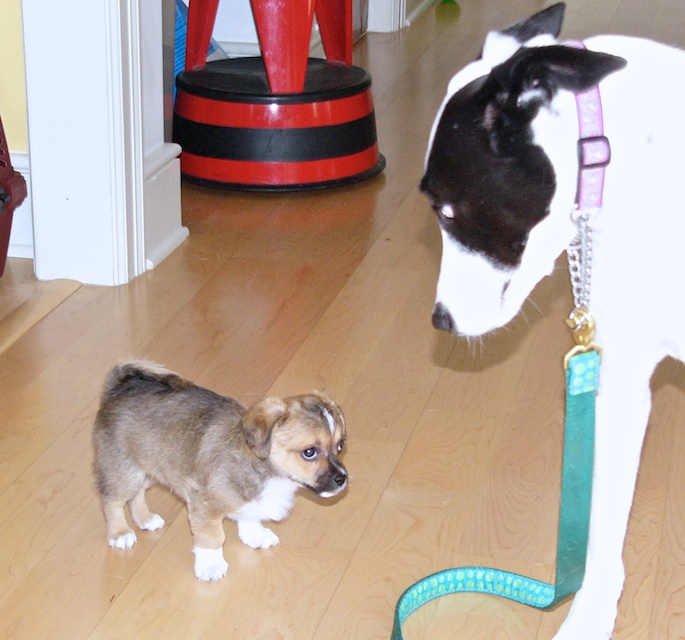 Soon, Lily caught on.
And Scooter made himself right at home.
And they became fast friends.
So, Lily got what she wanted.
Scooter, however, was not what I expected. I have never liked toy dogs. I like sturdy, active smart dogs. Scooter weighs 10 1/2 pounds. He's a little, shivery lap dog. Most of the day you can find him sleeping where it is warm and cozy.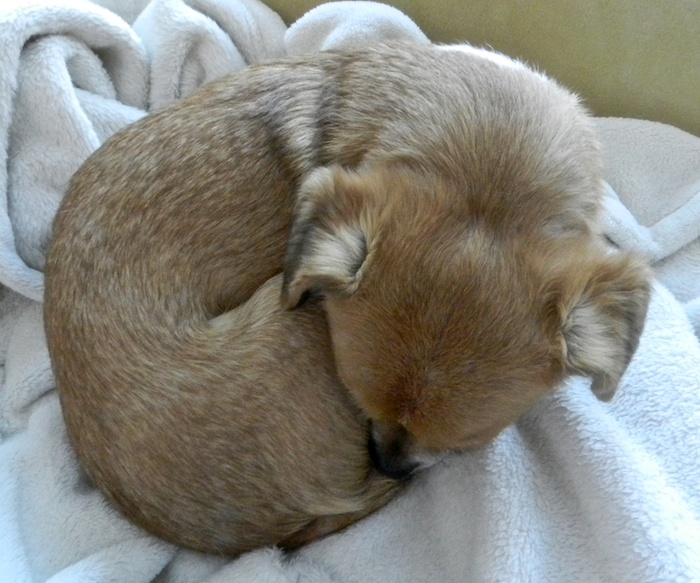 In the summer, he prefers to sleep in the sun.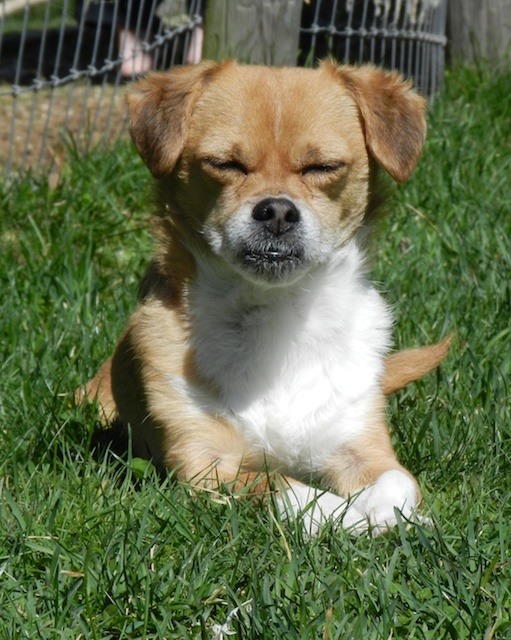 Lily protects him from hawks.
Once in awhile he wakes up and gazes sweetly at you.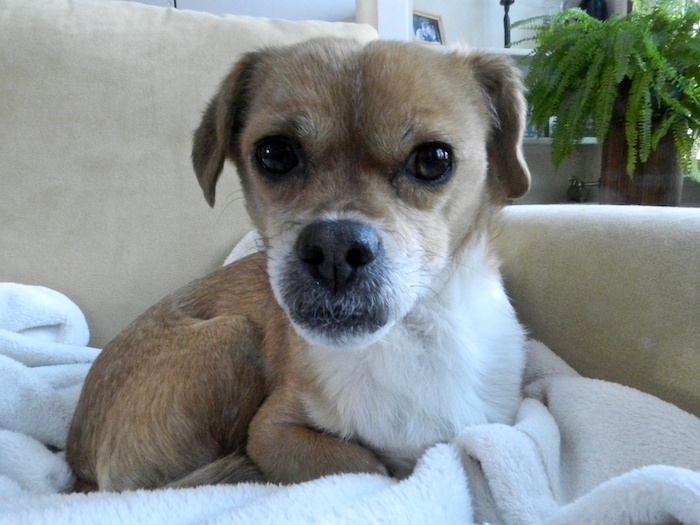 Then he goes back to sleep. Lily has been taught a repertoire of tricks and useful behaviors. Scooter, who we call the dog of little brain, has one. I say, "look cute!" and, of course, he does.
It turned out that Scooter didn't match any of my criteria, and yet somehow, he is perfect in every way. He's taught me to embrace the unexpected. You never know who might become your best friend.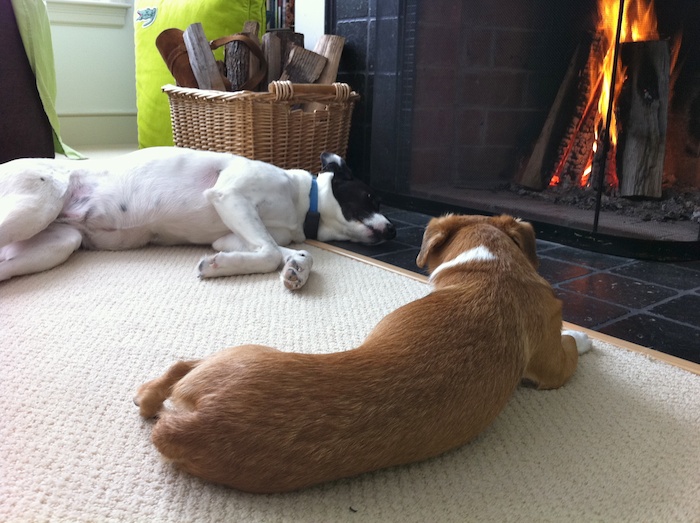 Happy Seventh Birthday, Scooter!