I wasn't going to get more chickens this year. Really. The Gems will be turning two years of age, and twelve mature hens are plenty to provide eggs for my table (even with those darned broody Orpingtons and a Cochin that looks pretty but doesn't do much else!) However, I'm working with a nursing home to bring the contentment of watching a busy flock of hens to their residents. The coop will be installed by March and I'll be stocking it with pullets. I want to supply them with seven distinct birds, all in different plumage, so that the residents can identify them from a distance (we're siting the coop so that the memory loss residents can watch throughout the day from their activity room windows.) I want to provide the nursing home with winter hardy, easy to care for hens, so no top-knotted Polish, or Cochins that suffer from the heat. I want hens that have mellow personalities that get along well with others and are friendly to people. All of the chickens have to be girls. No crowing! I decided that in order to meet my criteria, I'd have to raise chicks myself, and raise more than they need, watch them mature, and pick the right seven for the job. As long as I was raising extra chicks, I figured I'd get some for myself. The minimum chick order is 25. Seven for the nursing home, four for me, and I'll sell the remaining pullets.
This is my order:
3 Blue Andalusians – I have a thing for blue-grey hens. I think they're gorgeous. I've never had this breed but hear good things about their temperament. I'm hoping to keep one.
5 "Araucanas" – these are not true to breed standard (other hatcheries call them "Easter Eggers") but they lay eggs that vary in color from bright blue to olive green. It's been a few years since I've had a blue egg in my basket, and I miss the cheerful color. There's much variation in the plumage of this breed, and I'm hoping that some will be muffed (fluffy feathers around the face.) I'm going to keep two.
3 Black Stars – these are high production hybrids that also have lovely, friendly temperaments and are very easy to care for.
2 Buff Orpingtons – despite how prone they are to broodiness, they're also mellow, and their yellow feathers are pretty and distinctive.
2 Cuckoo Marans – Marans lay dark brown eggs. It's a breed that I haven't any experience with, but several people have insisted that they are nice birds that "play well with others."
3 Delawares – Opal, my Delaware, is a sturdy and placid big hen. I think the Delaware at the nursing home will become a favorite.
2 Dominiques – this breed has the same black and white striped feathers as the Barred Rocks, but they are less aggressive to other hens.
2 White Leghorns – I'm sure that many residents will remember Leghorns from their youths. Leghorns are active, friendly and curious. I think they'll interact well with the many people who will be visiting them.
3 Brown Leghorns – Despite the fact that most of the nursing home residents remember Rhode Island Reds, I didn't order any as they tend to be very pushy with other breeds. Instead, I've selected these pretty red hens, which will, hopefully, have the same personality as their more popular white cousins. I'm planning on keeping one.
How quickly it adds up to 25 chicks! There were so many great breeds that I didn't order. It was hard to leave out the Speckled Hamburgs and the Welsummers. A shiny black Australorp would have been nice….
Now that I'm done with the chick order, I've been perusing the seed catalogs. At least when I buy too many seeds I can tuck the extra away in a drawer. But, chicks go quickly from tiny fluff balls that fit in your hand to spiky pterodactyls. This is a Buff Orpington at 4 weeks. It's a good thing that I can fit a large brooder into my barn!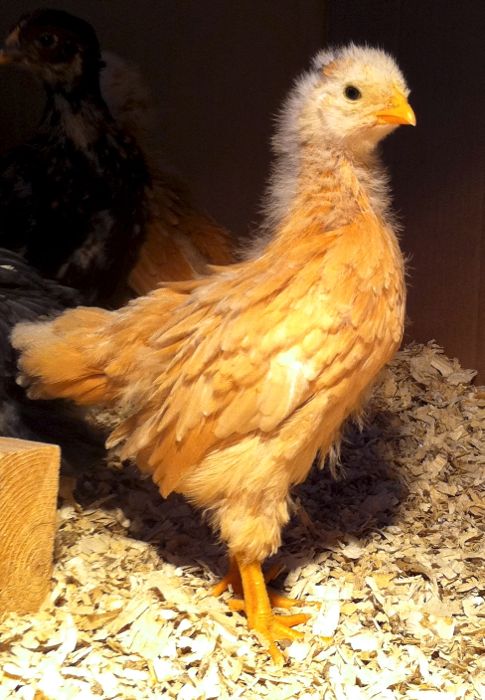 What breeds are on your chick list?