At the end of the winter, my friend, Lauren Keller Johnson, emailed me about the death of one of her chickens. She didn't know what killed her hen and asked me to do a necropsy. Some girlfriends go shopping. Some open up diseased birds.
Like me, Lauren is a writer, and, like me, thinks through events by crafting them into words and essays. She wrote a thoughtful piece about her chicken's demise. I wrote a companion article about the necropsy. Both are published in the August/September issue of Backyard Poultry Magazine.
You can't make a living writing about chickens, but you can get a t-shirt. I received a women's size large, blue, Backyard Poultry Magazine tee, which I'm going to pass along to one of you. I'll also include the issue that has the articles in it.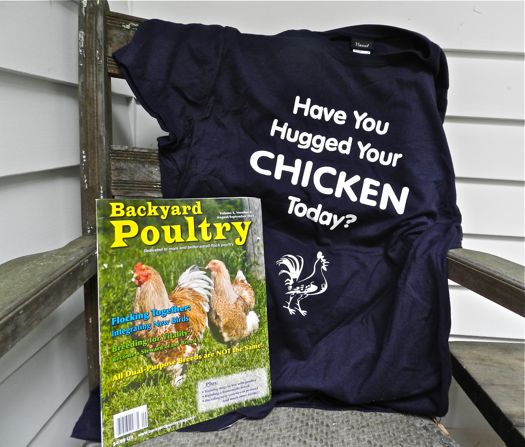 All you have to do to enter is to comment below and tell me how many chickens you have, if any. I want to hear if you have other poultry, too (have I mentioned lately how much I'd like a pair of Pilgrim geese? No? Tell me about yours, because we're full up here.)
One entry per person, please. The contest closes Wednesday, July 27 at 10 PM EDT. I'll use a random number generator to select the winner.
Do post this on FB and retweet on Twitter. Thanks!
The contest is now closed. Winner announced on Thursday.