I give presentations on chicken keeping for adults and children. I lecture at science and nature centers, at feed stores and at green fairs. Several times a year I host hands-on workshops in my backyard. In these programs I  share what you need to know to get started with your own chickens. I cover selecting the right breed, housing, feed, and how to keep the flock healthy. I talk about chicken behavior, predators, and daily chores. I show how I compost the manure and makes use of it in my gardens. My talks are lively, engaging and informative.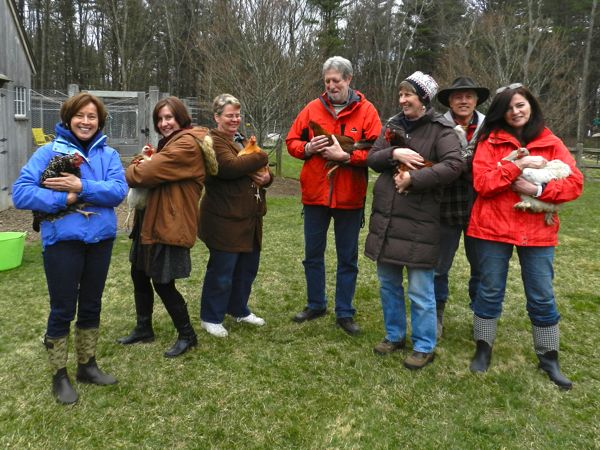 Keep an eye on Upcoming Events to sign up for my upcoming workshops, and to see where and when I'm speaking next. Or, don't wait! Gather a minimum of six friends and I'll schedule a workshop just for you. Email me and let's discuss the possibilities!
I'm also available for private in-person or Skype visits.
I hope to meet you soon!
Programs for Garden Clubs and Organizations
These slide shows are geared for garden clubs and organizations. Each presentation is one hour, plus additional time for Q & A.
Backyard Chicken Keeping for Gardeners
Keeping chickens in your backyard and having a beautiful lawn and garden are not mutually exclusive! Done right, the hens will not only add fresh eggs to your table, but can also create rich compost, and help with bug control. Even if you'€™re not interested in having chickens of your own, you'€™ll enjoy this engaging program, with many photographs from Terry'€™s garden (which was on the Concord Museum Garden Tour) and of her flock, goats, and koi pond.
Getting Started With Chickens
Learn the pros and cons of chicken keeping from someone who has had a backyard flock for twenty years. Terry will discuss everything from housing, to feed, to care in all weather. She wi€™ll go over health concerns, the chicken life-cycle, and how to select the right breeds for your flock.
Chicken Keeping for Institutions
Of all of the domestic farm animals, chickens are the ones most easily integrated into a public space or institution. They are small, non-threatening and personable. However, providing for them properly requires forethought. Having a plan in place for changing caregivers and public interaction is essential. Knowing life cycle, behavior, and possible ailments is critical to success. This workshop will help you decide if chickens are right for your program. Terry has experience installing a flock at a nursing home.